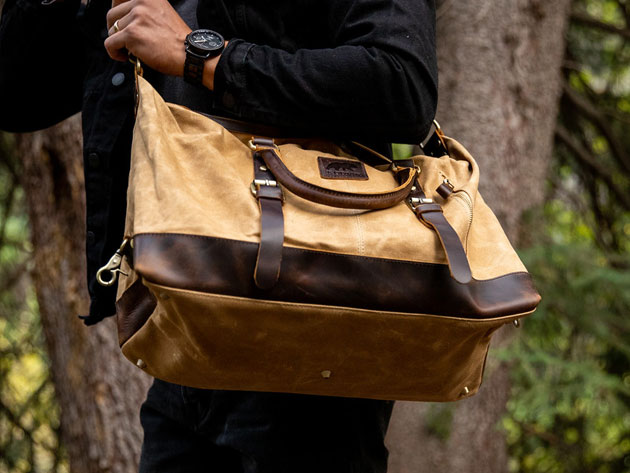 There are bags you keep around for a status symbol, whether because of a brand name or the way they match your clothes. Then there are those pieces of luggage that stick around, destined to go on everyday trips and passed down to your kids for their own adventures. These Kodiak bags are firmly in the latter camp - but as a bonus, it just so happens that well-designed leather goes with just about any outfit.
Exhibit A: This Kodiak Leather Weekender Duffel Bag.
The veg tanned, top grain leather here is every bit as authentic as it looks, and the built-in handles and shoulder strap are sewn to last. The pockets are well thought out, with two exterior pockets on the 30L model and four on the larger 60L version - two with magnet latches, one with a zipper and a separate container just for shoes. Inside, there are specially-sized hideaways for business or credit cards, pens, and an iPad.
The Kodiak Leather Weekender Duffel Bag in Antique Brown comes in size 30L for $269 or 60L for $399 - both 20% off the MSRP.
For more casual day trips or everyday use, Kodiak makes an Augustine Duffel in Tan.
This one sports the same handmade, rugged design and leather accents, while the main exterior is waxed canvas. It's got an easy-access magnetic exterior pouch, plus a zippered side pocket.
The Kodiak Augustine Duffel in Tan is also on sale at $149, a 14% drop off the list price.