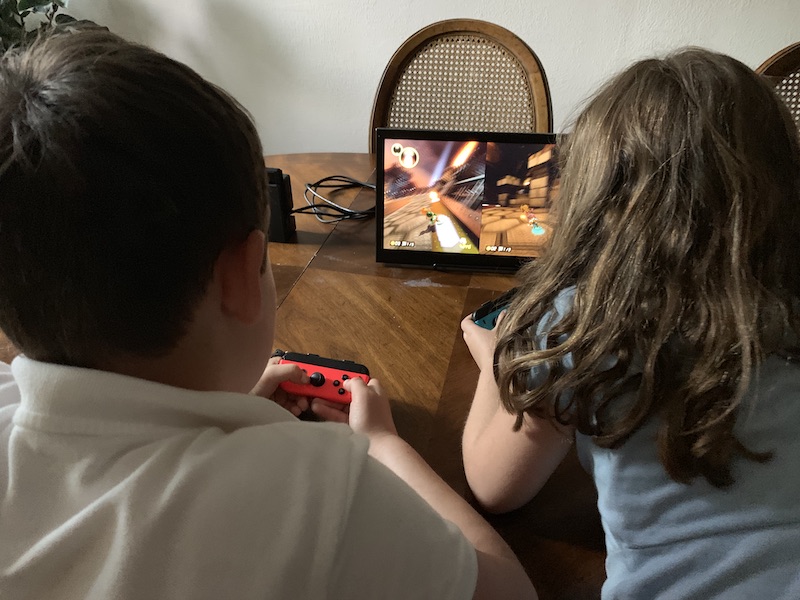 Mostly for use during extended camping trips in my Volkswagen camper, I'm running a docked Nintendo Switch and 13.3" 1080p IPS monitor all off of power banks.
Spare me the horseshit about how awful it is I or my kid might play video games inside our camper van while camping. We like to play video games and we're spending a lot of time in our Westy this summer. I wanted my kid and her cousins to be able to play Mario Kart. I like to play Fortnite. This system is getting us hours and hours of playtime.
Nintendo is sensitive to the order in which these devices are plugged together. Failure to follow the correct order frequently results in starting over. I plug a stock Nintendo power supply into this 20,000 mAh AC Outlet bearing power bank. The power bank is rated to 100W and has some internal fans to cool down if it gets too hot. Thus far the Nintendo doesn't force it to cool very often. The Nintendo USB-C power supply evidently will draw a max of 39W and this battery should be more than capable of providing hours and hours of power. Playtesting has shown it to run down about 10% in an hour.
I plug the Nintendo power supply into a Nintendo Switch dock. I then plug an HDMI Cable into the dock. The other end of the cable connects to my 13.3" 1080p IPS display. I use an HDMI to HDMI-mini cable that came included with the monitor. Once these guys are all hooked together I put the Switch in its dock, and only then plug power into my monitor. The monitor is powered by ANY USB power bank I have on hand and a USB-A to USB-micro B cable.
The 13.3" IPS monitor has a 2ms refresh rate. It is lovely from the distance we are typically seated from it in the Volkswagen. I can hardly play Fortnite on Nintendo's tiny native screen, but my eyes do not suffer from this one. The speakers are OK for the kids to play MarioKart, I wear headphones for Fortnite.
I carry an Xbox controller for use playing FPS and the JoyCons are great for kids to play Mario games. I have been meaning to try Gato Roboto soon tho.
Nintendo Switch – Neon Red and Neon Blue Joy-Con via Amazon
AC Outlet Portable Charger Battery Pack - 20000mAh 100W/110V(Max.) Travel Power Bank with Built in AC Outlet and 2 USB Ports for MacBook, MacBook Pro, Laptops, Smartphones, 2-Year Warranty via Amazon
Elecrow 13.3 Inch IPS Raspberry Pi Display 1920X1080 Resolution Dual HDMI Portable Monitor PS3 PS4 Gaming Screen with Build-in Speakers for Raspberry Pi WiiU Xbox 360 Windows 7/8/10 via Amazon