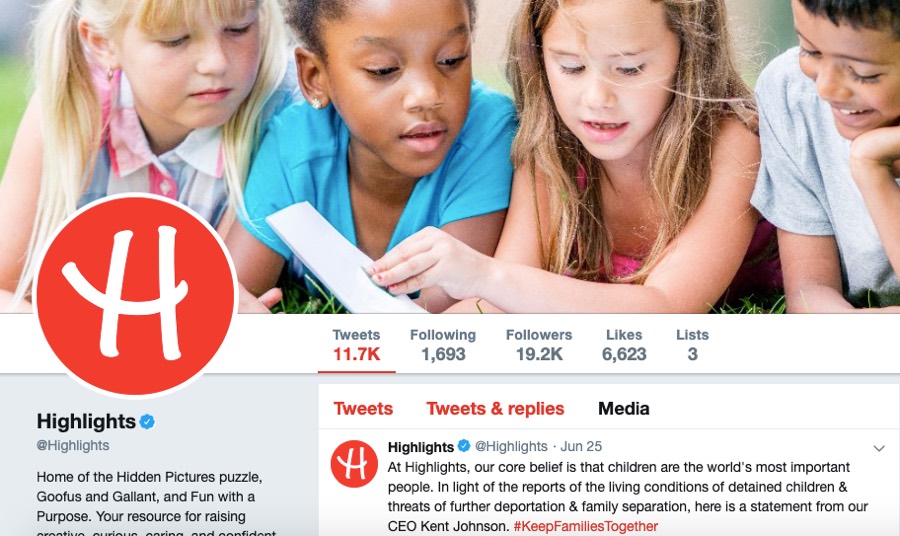 The long-running kids' publication 'Highlights for Children' condemned the Trump administration's policy of separating children from families at the US-Mexico border in a statement published on social media.
At Highlights, our core belief is that children are the world's most important people. In light of the reports of the living conditions of detained children & threats of further deportation & family separation, here is a statement from our CEO Kent Johnson. #KeepFamiliesTogether pic.twitter.com/CNF5LTv4az

— Highlights (@Highlights) June 25, 2019
The Trump program of maximum cruelty and mass human rights abuses against migrant children and adults has been escalating for more than a year. Stories of horrors involving infants, toddlers, teens, and adults are coming out every day now. An Associated Press photograph of a dead father and daughter who drowned trying to cross into the US -- the photo is everywhere.
Did not expect 'Highlights for Children' to take a stand. But it's a really good thing.
From Lee Moran at HuffPo:
Kent Johnson, CEO of the venerable publication, urged the government to "cease this activity," which he called "unconscionable" and said "causes irreparable damage to young lives." He asked people to write to their elected representatives to express their outrage.

"As a company that helps children become their best selves — curious, creative, caring, and confident — we want kids to understand the importance of having moral courage," Johnson wrote. "Moral courage means standing up for what we believe is right, honest, and ethical — even when it is hard."

Johnson said the company's core belief — that "children are the world's most important people" — applied to "ALL children."

"This is not a political statement about immigration policy," Johnson continued, but one "about human decency, plain and simple."
"Let our children draw strength and inspiration from our collective display of moral courage," the statement concluded. "They are watching."