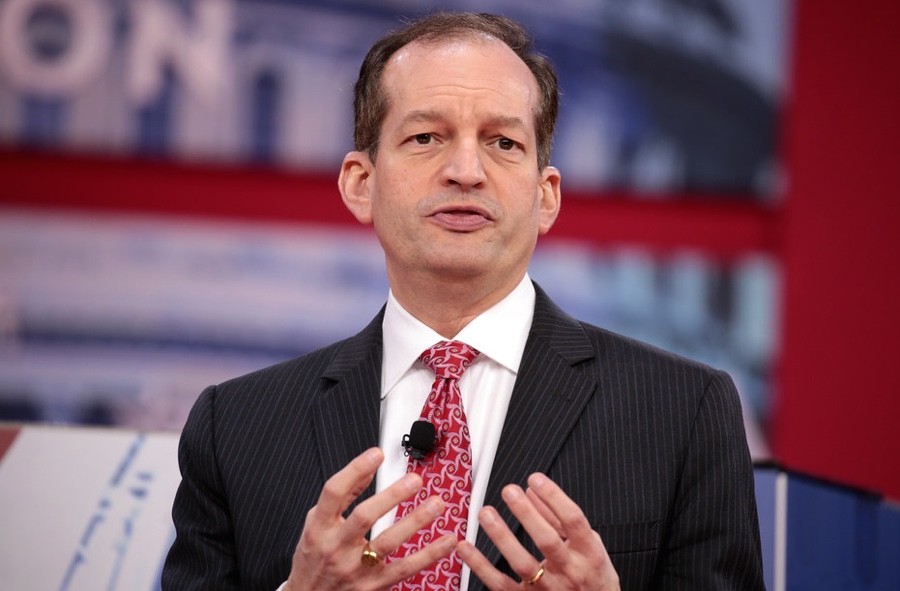 Acosta calls his role at the Labor Department "the honor of a lifetime."
Donald Trump's Labor Secretary Alexander Acosta today announced he is resigning, while walking with the popular vote losing president out of the White House before POTUS prepared to fly to Milwaukee.
"As I look forward, I do not think it is right and fair for this administration's labor department to have (Jeffrey) Epstein as the focus rather than the incredibly economy we have today," Acosta said.
"I told [President Trump] the right thing was to step aside," Acosta continued. "Cabinet positions are temporary trusts. It would be selfish to stay in this position and continue talking about a case that's 12 year old, rather than the amazing economy we have right now."
Acosta said some more dumb stuff.
Then it was Donald Trump's turn.
"He's a Hispanic man. He went to Harvard, a great student."
Those were Trump's remarks about Acosta.
"It has meant so much to me that you have offered your steadfast support in your private discussions and in your public remarks," Acosta wrote. "My resignation from this position will not diminish my support for you and your agenda. I believe you have done an incredible job and have the right vision for our nation by putting working American families at the center of your presidency."
Patrick Pizzella, deputy labor secretary, will take over as acting secretary.
Here's the complete letter.
Here is @SecretaryAcosta's resignation letter to @realDonaldTrump pic.twitter.com/hkGgsjhLcm

— Christina Ginn (@NBChristinaGinn) July 12, 2019
[IMAGE: Alexander Acosta. "U.S. Secretary of Labor Alexander Acosta speaking at the 2018 Conservative Political Action Conference (CPAC) in National Harbor, Maryland." PHOTOGRAPH by Gage Skidmore]