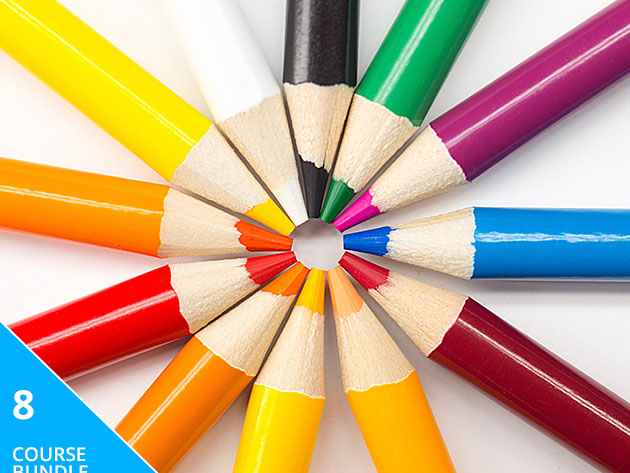 With enough practice and commitment, anyone can be a visual artist. But without the right instruction, that time spent honing your skills could seem like an eternity. If you really want to see where your talent can take you, you need sound fundamentals - and no matter what discipline or genre you lean toward, the Drawing Fundamentals Bundle has valuable insights you can draw on (and draw with) online, anytime.
In total, there are nine complete courses in this package, and the best part is that you can decide what it's worth. For a limited time, the whole thing is up for grabs on a "pay what you wish" basis. Fill in that price tag with any number you want, and you'll get at least a few courses. Beat the average offer, and you can take home the whole thing. Which, for the record, is pretty comprehensive:
The Complete Ballpoint Pen Drawing Course For Beginners: A guide to making vibrant art with the most accessible tools.
How to Draw a Flower & Pitcher with Colored Ballpoint Pens: A step by step exercise that will hone your hatching and detail skills.
Portrait Drawing with Colored Ballpoint Pens: An entryway into portraiture, where you'll learn shading, volume and more.
Colored Pencil Drawing Techniques: Expand your art vocabulary with the most versatile weapon in the sketcher's arsenal.
Portrait Drawing Fundamentals Made Simple: A walk through the Loomis method and other failsafe portrait techniques.
Digital Painting: Amazing Fantasy Art in Manga Studio 5: A fun dive into an affordable and essential piece of art software.
How to Draw Dynamic Comic Book Superheroes: Start to Finish: Learn the basic anatomy and larger-than-life poses that bring your heroes to life.
How to Draw Heads: Step-by-Step & From Any Angle: One of the most difficult aspects of figure drawing, explained and illustrated.
How to Draw a Harbor Landscape with Pastel Pencils: An interactive tutorial that will have you painting your own masterpieces.
All nine courses would normally retail for $1496, but you can name your price now for the complete Drawing Fundamentals Bundle.