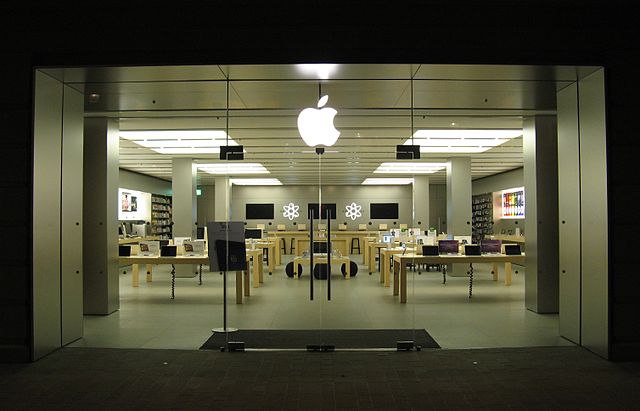 PHOTO: An Apple logo at a retail location in San Francisco, 2014. REUTERS
We can expect three new "iPhone 11" models this fall from Apple, according to the official unofficial rumor mill. Each of these is said to be designed with an A13 chip, a Lightning port, and a new 'Taptic Engine' that will replace iPhone's current 3D Touch.
The 'iPhone 11' will include three (3!) cameras on the back contained within a square.
"Our sources share that it looks very similar to the many mockups that have been circling around," writes 9to5Mac's 9to5Mac's Guilherme Rambo. That new extra space will, as Bloomberg first reported, be filled with a wide-angle image capable camera.
Excerpt from 9to5Mac:
Similar to last year's introduction of the iPhone XS, iPhone XS Max, and iPhone XR, Apple will release three new 'iPhone 11' models this fall. The new iPhones will feature the Apple A13 chip, internally known by its platform codename Cebu, model T8030.

According to people who've seen the devices, all three iPhone 11 models will still feature a Lightning port, contrary to some speculation that they would be moving to USB-C after the change on iPad Pro last year.

The 'iPhone 11' models are known as D42 (iPhone12,3) which will replace the iPhone XS; D43 (iPhone12,5) which will replace the iPhone XS Max; and N104 (iPhone12,1) which will replace the iPhone XR. D42 and D43 will have a 3x OLED Retina display, while N104 will still feature the 2x Liquid Retina display just like the current generation. All three iPhones will feature the same screen resolution as their predecessors.
Nobody knows much about the new 'Taptic Engine,' which is known by the codename 'leap haptics,' per 9to5Mac's report today. "It's unclear what types of features this new engine will enable at this point."
Apple to release three 'iPhone 11' models this fall, including A13 chip, new Taptic Engine, more [PHOTO: Reuters, archival, Apple Store in Bath]