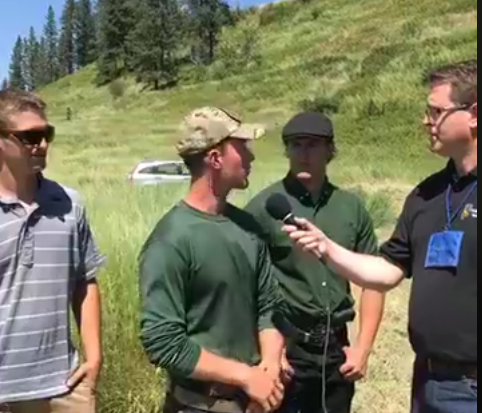 Leaked emails reveal that Washington state rep Matt Shea has "close ties" with Team Rugged, a white nationalist/Christian fundamentalist terror organization that trains children, teens and young men to fight in an apocalyptic race-war against Muslims and communists.
In a leaked email, Team Rugged leader Patrick Caughran describes its mission as "[providing] patriotic and biblical training on war for young men...There will be scenarios where every participant will have to fight against one of the most barbaric enemies that are invading our country, Muslims terrorists." The training included knife, pistol and rifle combat.
Team Rugged's ideology comes from the white nationalist preacher John Weaver, whose writings glorified the Confederacy and slavery and condemns "interracial" marriage.
Shea had already openly supported Team Rugged and appeared with child soldiers the group had trained in promotional videos, praising their training, saying, "I love the fact that you guys looked like almost an acrobatic special-forces team out there." Shea had also acknowledged his authorship of "Biblical Basis for War," a manifesto calling for a "holy war" (he denied that it was a manifesto and claimed instead that it was a "sermon" about "war in the Old Testament").
However, leaked emails and messages from Team Rugged's Facebook group have revealed that Shea's ties with the group run deeper than suspected. The state House of Reps has hired private investigators to produce a report on Shea's promotion of terrorism.
Spokane County Sheriff Ozzie Knezovich, who has urged fellow Republicans to denounce Shea as an extremist, compared Team Rugged to the Hitler Youth of Nazi Germany.

"Any radicalization of youth in such a manner would be very comparable," Knezovich said in a text message Wednesday.

Shea, who rarely speaks to the media, had not publicly responded to the reporting on Team Rugged as of Wednesday evening.

On Facebook Wednesday, he shared a blog post about Washington's new Democratic House speaker, writing: "THE CURRENT DIRECTION OF WASHINGTON IS DECIDEDLY ANTI-CHRISTIAN."
Leaked emails show Washington state Rep. Matt Shea endorsed training children to fight in holy war [Chad Sokol/Seattle Times]