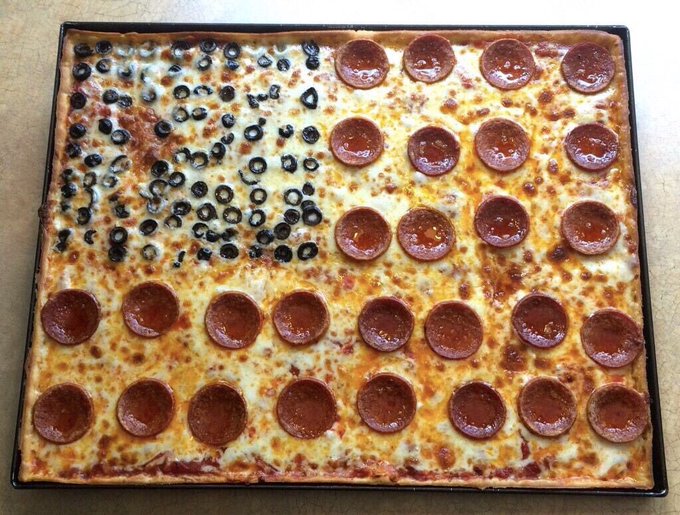 A pizzeria that specializes in square pies shared a photo of a 9/11 tribute pie on 9/11. People lost their damn minds.
Poor Ledo's Pizza.
I bet this is a day they'll #NeverForget.
Here was the ill-fated tweet.
Here is the apology.
"While most fans are used to seeing this photo and share our Patriotism, a few Twitter users took offense to this imagery and for this we are sincerely sorry. Our Twitter post was never intended to diminish the gravity of September 11th and has since been removed," the thread continued. "Again, if you are familiar with Ledo Pizza, you know that we would never intentionally do anything to dishonor our flag and we hope that you can find it in your heart to forgive us for this misstep. #WeAreSincerelySorry"
Hashtag #WeAreSincerelySorry.
From DCist, we must #NEVERFORGET the many other times brands have done bad things to commemorate the 2001 terror attacks.
"#NeverForget," the local chain tweeted, alongside an American flag emoji and an image of its square pizza pie meant to resemble the flag, with olives standing in for stars and pepperoni as stripes.

It wasn't the first time a brand tweeted about the solemn day. Who can forget when AT&T promoted a cell phone with an image of the Twin Towers? Or when sex toy manufacturer Fleshlight called on us all to "honor those still fighting for freedom"?