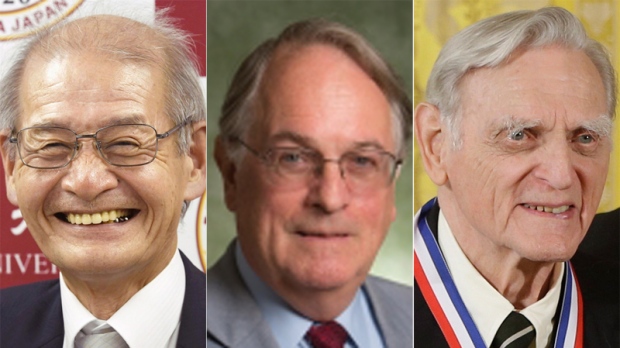 From left: Akira Yoshino, Dr. M. Stanley Whittingham and Dr. John Goodenough (Charles Dharapak / Yoshiaki Sakamoto / Kyodo News / Binghamton University)
---
The 2019 Nobel Prize in Chemistry has been awarded to three scientists whose work developing lithium-ion batteries made mobile phones, iPads, laptops, and electric cars possible.
The three recipients are U.S. engineer John B. Goodenough, M. Stanley Whittingham of the U.K., and Akira Yoshino of Japan. They will share the 9 million Swedish kronor ($906,000) prize awarded by the Royal Swedish Academy of Sciences.
"This is a highly-charged story of tremendous potential," said Olof Ramstrom of the Nobel committee for chemistry today.
The breakthroughs these scientists made opened up a new world of possibilities to counter global warming and the worldwide climate crisis.
From the Associated Press:
The prize announced Wednesday went to John B. Goodenough, 97, a German-born American engineering professor at the University of Texas; M. Stanley Whittingham, 77, a British-American chemistry professor at the State University of New York at Binghamton; and Akira Yoshino, 71, of chemicals company Asahi Kasei Corp. and Meijo University in Japan.

The honor awarded to the three scientists is a capstone of a truly transformative technology that has permeated billions of lives across the planet, including anyone who uses mobile phones, computers, pacemakers, electric cars and beyond.

"The heart of the phone is the rechargeable battery. The heart of the electric vehicle is the rechargeable battery. The success and failure of so many new technologies depends on the batteries," said Alexej Jerschow, a chemist at New York University, whose research focuses on lithium ion battery diagnostics.

Whittingham expressed hope the Nobel spotlight could give a new impetus to efforts to meet the world's ravenous — and growing — demands for energy.

"I am overcome with gratitude at receiving this award, and I honestly have so many people to thank, I don't know where to begin," he said in a statement issued by his university. "It is my hope that this recognition will help to shine a much-needed light on the nation's energy future."
Nobel prize honors breakthroughs on lithium-ion batteries [AP, DAVID KEYTON and JAMEY KEATEN.]