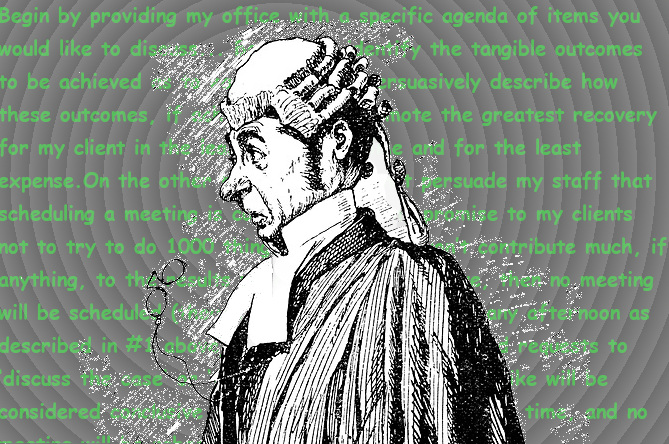 If you're opposing counsel to Lane Jefferies, a lawyer with Anastopoulo Law Firm in Charleston, South Carolina and you want to talk with Jefferies about the case, well then, buckle up, chucklefuck, because you are in for a hell of a ride.
As Jefferies' email footer informs those he corresponds with, if you want to call him about a case, you can try ringing his office between 4 and 4:30PM, during which time he will devote five minutes to discussing the case with you.
Should your five minute performance pass muster with Jefferies, the signature file goes on to say, he will "instruct my staff to schedule a longer meeting with you if you satisfy the criteria set forth in #2 below."
Criteria #2, the sigfile continues, is this: "Begin by providing my office with a specific agenda of items you would like to discuss... Be sure to identify the tangible outcomes to be achieved as to each item, and persuasively describe how these outcomes, if achieved, would promote the greatest recovery for my client in the least amount of time and for the least expense."
But there's more! "On the other hand, if you do not persuade my staff that scheduling a meeting is consistent with my promise to my clients not to try to do 1000 things at once that won't contribute much, if anything, to the results we are trying to achieve, then no meeting will be scheduled (though you remain free to call any afternoon as described in #1 above)... Fair warning: generalized requests to 'discuss the case' or 'talk about the status' or the like will be considered conclusive evidence of a request to waste time, and no meeting will be scheduled."
The sigfile has gone viral in the lawblawgging world, with one unnamed lawyer telling Fitsnews that it is "the most unprofessional, insufferable, self-important, insolent, asshole electronic signature I have seen in my twenty years as a member of the bar."
Now, to be fair, this is not far off from my own telephone policy, which can be more compactly summarized as "God, do we have to do this by phone? OK, fine, if you fucking insist" (I am a monster at answering emails, in part because I rarely talk on the phone). But my long experience of commercial lawyers is that, yes, they really do expect to do a bunch of stuff by phone and nevermind that much of that stuff is empirically more efficient when done by email. It is what it is.
But think of how wonderful the world would be if phonecalls of this nature were only ever undertaken when the parties had crisply articulated, tangible goals, and when the call was organized around achieving them!
"Begin by providing my office with a specific agenda of items you would like to discuss," he wrote. "Be sure to identify the tangible outcomes to be achieved as to each item, and persuasively describe how these outcomes, if achieved, would promote the greatest recovery for my client in the least amount of time and for the least expense." ….

"If your email persuades my staff that using my time to meet with you is legally required or is likely to be a worthy investment from the perspective of my client, then they will schedule a meeting (probably a meeting by phone initially)," the message continued.

….

"On the other hand, if you do not persuade my staff that scheduling a meeting is consistent with my promise to my clients not to try to do 1000 things at once that won't contribute much, if anything, to the results we are trying to achieve, then no meeting will be scheduled (though you remain free to call any afternoon as described in #1 above)," the message continued. "Fair warning: generalized requests to 'discuss the case' or 'talk about the status' or the like will be considered conclusive evidence of a request to waste time, and no meeting will be scheduled."

Jefferies concluded his missive by noting that his staff has "instituted the above procedure in order to accommodate your desire to speak with me by phone in a manner that does not interfere with my ethical obligation to to (sic) devote my time and attention to the pursuit of justice for my clients as quickly and economically as possible."
Is This The World's Most Self-Important Email Signature? [Fitsnews]
Lawyer Makes Gambit For Most Self-Important Of Them All With Obnoxious Email Signature [Kathryn Rubino/Above the Law]
(via Lowering the Bar)