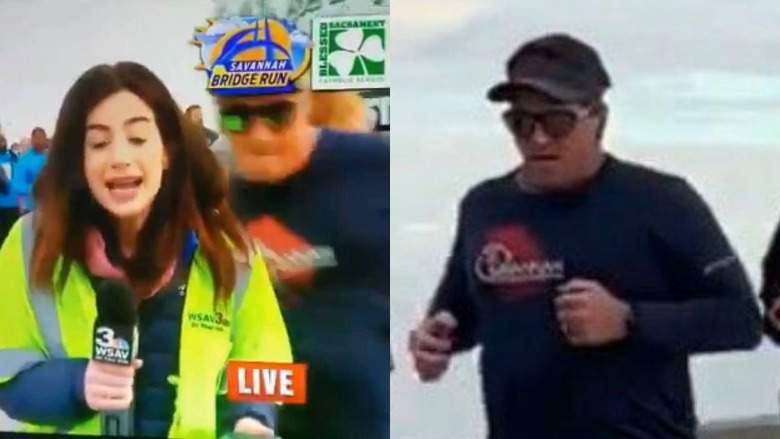 The runner who slapped WSAV-TV reporter Alex Bozarjian's butt on TV has been identified as Tommy Callaway (43) of Statesboro, Georgia. Callaway, a youth minister and boy scout leader, did not come forward until his identity was revealed by social media users who used his numbered race bib to figure out who he is. Callaway has locked his social media accounts and is communicating through his attorney, who issued the following statement:
"While we regret the situation, Mr. Callaway did not act with any criminal intentions. Tommy is a loving husband and father who is very active in his community. We have been in touch with WSAV and representatives for Ms. Alex Bozarjian, as well as members of Savannah law enforcement. We do not expect any criminal charges to arise from this incident, and we are working with those involved to correct the situation."
From The New York Post:
Speaking on CBS TV's "This Morning" on Tuesday, Bozarjian confirmed that Callaway "did try to make contact " with her to say that "his intentions were not to hurt me, he didn't intend to do it.

"I'm not going to really debate that — because he did hurt me," she insisted of the slap that she said had a "heavy impact."

"He separates himself from the runners, and he kind of winds up. And he hit me hard," she said.

"He helped himself to a part of my body," she added, saying it left her in "disbelief" and "inundated with some female guilt" because of some of the harsh online comments suggesting she was at fault.

"It's not OK to help yourself to a woman's body just because you feel like it. It's not playful. He hurt me, both physically and emotionally," Bozarjian said.
Inside Edition interviewed Callaway about the assault. He said, "I was caught up in the moment. I was getting ready to bring my hands up and wave to the camera to the audience, there was a misjudge in character and decision-making. I touched her back. I did not know exactly where I touched her."
Image: Heavy