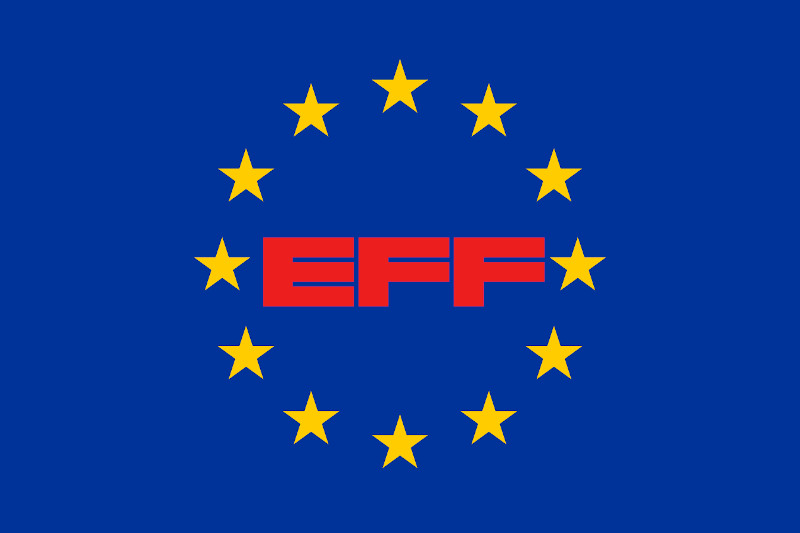 The Electronic Frontier Foundation has just hired two new staffers focused on the EU: Icelandic poet, artist, and free expression activist Birgitta Jónsdóttir, and European Internet policy expert Christoph Schmon.
They each have different areas of expertise and different kinds of projects, but in general they'll be working to ensure that the major new online policies in the EU take account of human rights like privacy and free expression and that they don't inadvertently create situations guaranteeing the dominance of big US tech companies (say, by enacting rules that only the largest companies can afford to comply with, driving smaller, EU-based companies out of business).
I've known Birgitta for years, and met Christoph recently, and both of them are hugely impressive, talented, knowledgeable activists. I was EFF's first-ever EU staffer, and I'm so excited to watch this process unfold!
Birgitta Jonsdottir, EFF's first Internet Archive Fellow, will be working across Europe as an advocate for the public interest Internet, focusing on protecting and balancing online speech, privacy, and innovation. In her years of activism in Iceland's Parliament for the parties she co-founded, the Civic Movement and Pirate Party in Iceland, she championed for democracy in the digital era, with special focus on making Iceland into a digital safe haven for freedom of expression, freedom of information and speech and the right to privacy both online and off. Birgitta's role is financially supported by one of the strongest examples of the public interest Internet: the Internet Archive, the non-profit digital library that aims to provide "universal access to all knowledge."

"Digital rights are human rights. People around the world must work together to protect privacy, transparency, and free expression," said Birgitta. "I'm proud to be working with EFF and the Internet Archive to help be a voice for the public interest Internet, and I'm thrilled to use the many lessons I learned as a politician to make the digital world a better place."

Christoph Schmon, EFF's new International Policy Director, will oversee all of our global policy work and follow the EU policy developments closely. Schmon comes from BEUC - the European Consumer Organization, where he led work on artificial intelligence and platform liability: two big topics that EFF is concerned with worldwide.

"The European Union is drawing up legislation that will change the balance between online platforms and their users," said Schmon. "The troubling provisions in the EU Copyright Directive signaled the starting point of this process. As the European Union member states begin to transform the directive into national laws, it's vital that the voices of technology users reach lawmakers. I'm very happy to lead the EFF team in making sure that the Internet works for everyone—not just the rich and powerful."
EFF Bolsters European Policy Work with Important New Staffers [EFF]