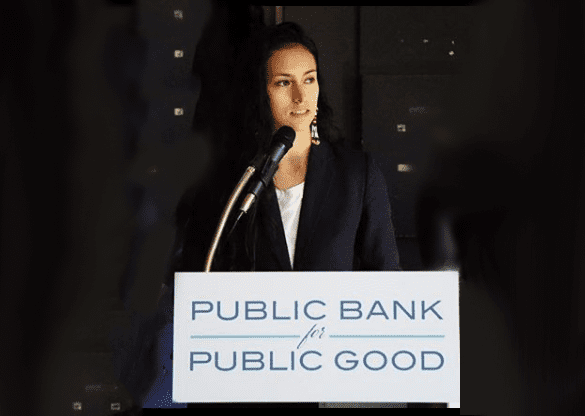 Until recently, Jackie Fielder was living in her van. At 25, the Stanford sociology grad couldn't afford rent in San Francisco.
Now Fielder -- who is of Hidatsa, Lakota and Mandan heritage -- is primarying an establishment Democrat to represent District 11 in the California Senate. District 11 is a very safe seat, so winning the primary nomination is effectively the same thing as winning the seat.
Fielder is running as a Democratic Socialist. Her opponent, Scott Weiner, has offered a string of solidly progressive initiatives while in office but whose record is marred by his support of pro-gentrification policies.
Fielder backs transformative, left-wing policies, especially the creation of a public bank (previously) and with it, divestiture of public finance from institutions complicit in crimes against humanity, notably Wells Fargo, a major funder of the Dakota Access Pipeline.
Fielder volunteered as a water protector at Standing Rock, and is also a #BlackLivesMatter activist. I donated to her campaign. I am a member of the Democratic Socialists of America.
In February 2017, just as the last water protectors were forced from the camps at Standing Rock, Remle and the Seattle Defund DAPL movement succeeded in convincing the city of Seattle to divest $3 billion of the city's funds from Wells Fargo due to their funding of the pipeline.

The victory was short lived, however, when a little over a year later the city renewed its contract with Wells Fargo. It could find no other large bank willing to take on the high volume of depository services required by the city. Other cities who want to divest have run into the same problem.

"No one has divested because there are no good alternatives," Fielder explained. "And 'good alternatives' being a bank that is big enough. For example credit unions and small banks can't handle multi-billion dollar budgets. We need to have our own establishment built by the public and accountable to the public. And that's why we've been working on this public bank project for the past three years."
Quest for divestment drives Native candidate Jackie Fielder's California Senate run by Frank Hopper [Last Real Indians]