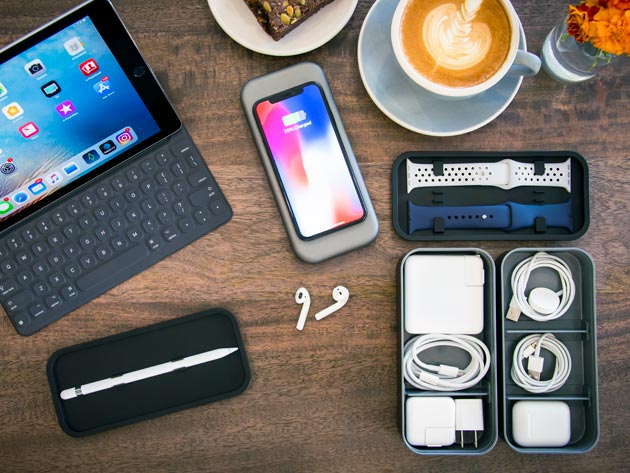 Apple is making it tough not to stock up on new smartphones and peripherals lately, but all that extra gear can lead to something we like to call "iSprawl." All that stuff is useful, but only if you don't have to hunt for your AirPods, phone, chargers and Apple Watch in four different places before every trip outside.
The BentoStack has been solving that problem in elegant fashion for a while now with a storage bin that packs each component neatly into a Bento-inspired case, complete with international wall plug converters builtin.
They've just recently introduced an upgrade to the case that takes the logical next step in efficiency. The BentoStack Charge has a top cover that serves as a 5,000 mAh power bank and wireless charger for Qi-enabled devices.
Both versions stack neatly together with a silicone band to secure the whole thing. Whether you're hitting the road long-term or just going to a short work session, it's the solution that ensures your devices stay protected and easy to access.
Both cases are on deep discount now: The original BentoStack at 14% off and the BentoStack Charge at 19% off the retail price.