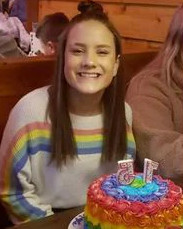 The Whitefield Academy is a "Christ-centered, college-preparatory school for grades PreK-12 fostering a passion for learning, others ahead of self, and the living and active Jesus." That is to say, it's a school for religious maniacs.
Kimberly Alford is a former student at Whitefield Academy. She was expelled after administrators saw that she had posted a photo of herself at her 15th birthday party, blowing out the candles while wearing a shirt with rainbow patterns on the sleeves.
Whitefield expelled Alford for "lifestyle violations." According to the school's head, Dr Bruce Jacobson, the shirt "demonstrates a posture of morality and cultural acceptance contrary to that of Whitefield Academy's beliefs."
Though neither Jacobson nor his staff would meet with Alford and her family nor discuss her explusion with her, they did allow her to voluntarily withdraw from the school to spare her from having an expulsion on her transcript. She is now a student at a public school.
Alford has denied that she wore her shirt in solidarity with gay rights. The school administrators claim that the photo was the final straw following violations of "our student code of conduct numerous times over the past two years." They did not elaborate on these "violations." Her mother says that she was once caught with an e-cigarette and once disciplined for leaving campus during lunch period.
According to Whitefield Academy's parent/student handbook, the school seeks to work in tandem with children's families to "mold students to be Christ-like."

"On occasion, the atmosphere or conduct within a particular home may be counter or in opposition to the Biblical lifestyle the school teaches," the handbook says. "This includes, but is not limited to, sexual immorality, homosexual orientation, or the inability to support Biblical standards of right and wrong."
Christian school expels teen after she posed with rainbow birthday cake, mother says [Michael Brice-Saddler/Washington Post]
(via Naked Capitalism)