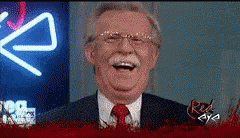 Trump asked national security adviser last spring in front of other senior advisers to arrange meeting between Rudolph Giuliani and Ukraine's new leader Zelensky
Well, who bet that more John Bolton book bombshells would explode on Friday? You win.
"Trump asked Bolton to call Zelensky to ensure he would meet with Giuliani. Cipollone and Mulvaney were in room." -- @nytmike.
Oh boy.
Excerpt from new reporting Friday by Maggie Haberman and Michael Schmidt at the New York Times:
More than two months before he asked Ukraine's president to investigate his political opponents, President Trump directed John R. Bolton, then his national security adviser, to help with his pressure campaign to extract damaging information on Democrats from Ukrainian officials, according to an unpublished manuscript by Mr. Bolton.

Mr. Trump gave the instruction, Mr. Bolton wrote, during an Oval Office conversation in early May that included the acting White House chief of staff, Mick Mulvaney, the president's personal lawyer Rudolph W. Giuliani and the White House counsel, Pat A. Cipollone, who is now leading the president's impeachment defense.

Mr. Trump told Mr. Bolton to call Volodymyr Zelensky, who had recently won election as president of Ukraine, to ensure Mr. Zelensky would meet with Mr. Giuliani, who was planning a trip to Ukraine to discuss the investigations that the president sought, in Mr. Bolton's account. Mr. Bolton never made the call, he wrote.
Mister Mustache Bolton's book comes out in March 17, you can pre-order it on Amazon.
• The Room Where It Happened: A White House Memoir