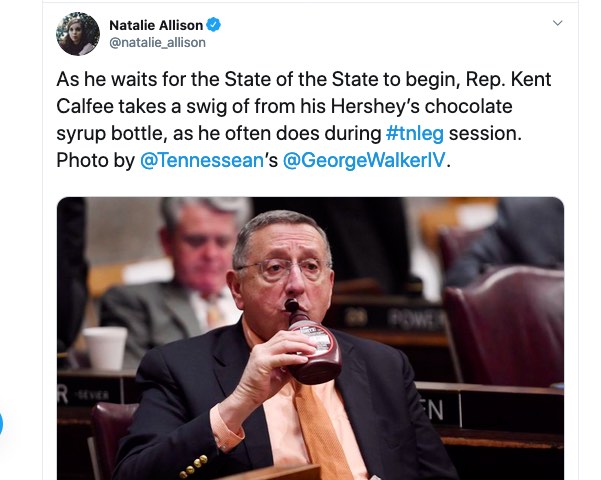 Reporter Natalie Allison, who covers state politics for The Tennessean in Nashville, tweeted a photo Monday (the photo was shot by photojournalist George Walker IV) of TN state Rep. Kent Calfee drinking from a Hershey's chocolate syrup bottle.
Weird.
Or -- not weird, if you ask TN state Rep. Kent Calfee, and others who've observed him doing this before.
Allison tweeted that Calfee "often does" this during the legislative session.
But not so fast, reports the Tennessean! The rep says it's water, not syrup or alcohol.
"It's a repurposed syrup bottle that I drink my water out of," Calfee said Tuesday, according to the newspaper. "I'm not going to buy a $25 or $35 or $45 water bottle that's not worth what it costs because I'll probably put it down and leave it somewhere."

He added that he and his wife "recycle everything," per The Tennessean, saying "I was fixing to put it in the plastic recycling one day at home, and I thought, shoot, I can put water in that."
Read more:
'It happens a lot:' Tennessee lawmaker sipping chocolate syrup bottle makes waves [sacbee.com]