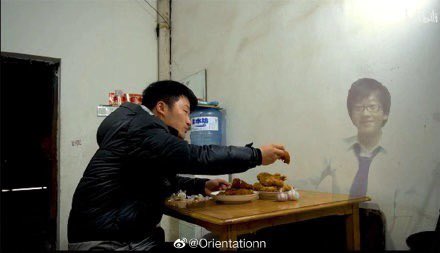 SCREENSHOT via
Keith Zhai, @QiZHAI
: 'China whistleblower doc #LiWenliang 's favorite food vlogger did a special show for Mr. Li, and netizens photoshopped Li's photo on it.'
• Online tributes and expressions of grief for doctor who tried to sound alarm on NCoV
Online in China, where Novel coronavirus 2019-nCoV has now killed at least 630 as of today, one death seems to have affected the entire country profoundly.
Li Wenliang was a medical doctor and a whistleblower who was reprimanded by authorities for warning of a fast-escalating and deadly outbreak of a strange new virus.
He died yesterday, of the virus he warned others about.
The tributes and memorials are -- wow. Wow. Wow.
This one, below? the person in the snow?
It says "Farewell Li Wenliang."
Their body forms an exclamation point.
Here are a few more, from China-based photojournalists, reporters, and others.
As everyday Chinese in mainland China remember #ChinaVirus #Whistleblower Dr. #LiWenliang #李文亮, remember also another who dared #speaktruthtopower

& a poem, from after the death of Liu Xiaobo

"You want to bury him / bury into the dirt / but you forget / he is a seed" pic.twitter.com/pnGkHxgndI

— 🚶🏻Curtis S. Chin (@CurtisSChin) February 7, 2020
Here the translated #Wuhan police letter #LiWenliang signed. Via @InkstoneNews @alanwongw Ht @RamyInocencio #tagafriend #telltheworld https://t.co/l9eeEo9wUI

It was not just the #WuhanCoronavirus that killed #DrLiWenliang; it was also the Communist system of secrecy & cover-up. https://t.co/hcrYDPohOy

— 🚶🏻Curtis S. Chin (@CurtisSChin) February 7, 2020
---
PREVIOUSLY ON BOING BOING
• China: Doctor who sounded alarm on Wuhan virus dies of it
• Chinese doctor who tried to warn about coronavirus early on but was censored has died from the disease [Updated]
---