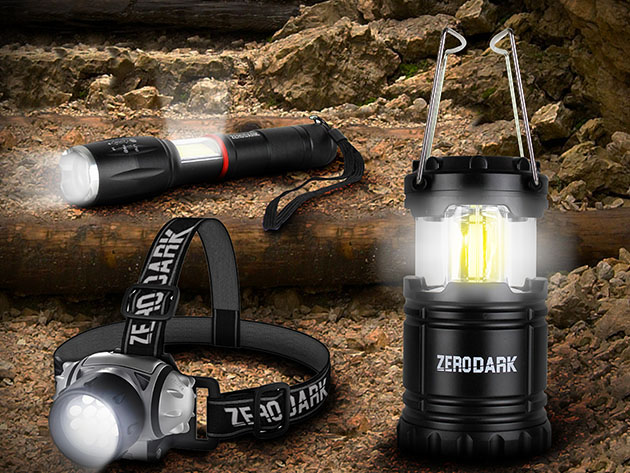 When you're out camping or just relaxing as the sun lazily slips below the horizon, there's an elegant romanticism to the darkening sky and the onset of inky blackness. But when you're stuck outside fixing a flat, trying to navigate or simply find something in the dark, all the charm and wonder of the night disappears pretty darn fast.
At that point, you just want some serious wattage right now. Thankfully, the ZeroDark 3-Piece Tactical Set is the instant light you need, regardless of your situation.
The set includes a lantern, flashlight and headlamp...but these are no ordinary light sources. Each is packed with a wickedly robust LED light array, blasting up to 40 times brighter than even a standard LED light. If you need your surroundings to go from pitch black to light of day in an instant, each of these handy accessories can do the trick.
The lantern is collapsible, with a beam capable of radiating up to 2 miles. Meanwhile, the flashlight is no lightweight either, packing six different light modes and an adjustable zoom. Finally, the heads-free headlamp has three light modes of its own and can be maneuvered into five swivel positions to throw light in any direction it's needed.
Each of these lights is weather-resistant, comes with a one-year manufacturer's warranty and is delivered with their own batteries. You don't even need to make a trip to the store to light up the night right out of the box.
Regularly a $59.99 package, the three-piece kit is now 66% off at just $19.99.