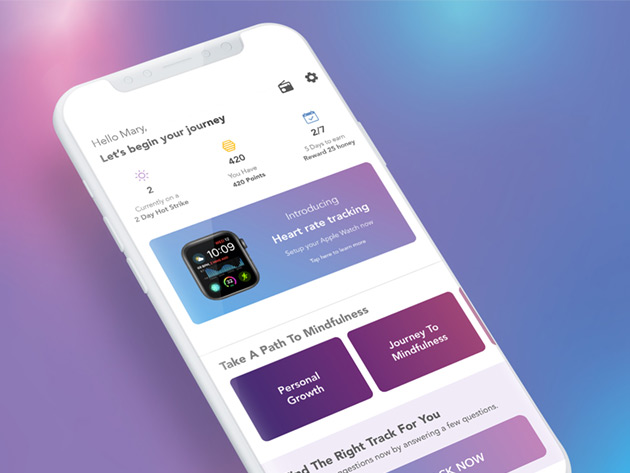 "Music hath charms to soothe a savage breast, to soften rocks, or bend a knotted oak." ― William Congreve, 1697
We assume William Congreve didn't have the ability to see the future, but he probably wouldn't be shocked over 300 years later to see you singing along exuberantly to The Ramones at the top of your lungs in your car. Granted, he might be shocked about the car. But the singing...no, we've known about the therapeutic value of music for literally centuries.
With tech advances, we're now at a point where the self-healing power of music can be served up right into your ears through your favorite apps. And we don't mean Spotify. Streaming services are great and all, but only dedicated services like Humm.ly are designed to bring you spiritual well-being through the science of music therapy.
Endorsed by Grammy.com and a certified no. 1 App of the Day in the Apple App Store, Humm.ly is the first and only app to serve up more than 200 tracks of music and guided meditation created by board-certified music therapists and world-class music producers to help brighten your day, reduce stress and anxiety and help you sleep better.
Convinced music can change our mental state and impact our ability to connect with others, Humm.ly's mood-based track sessions are created by playing music that matches someone's current mood, then shifts it gradually to the person's desired emotional state. 
Whether you want to unwind and relax, relieve pain and spark joy, or conquer challenges and thrive, Humm.ly's searchable track directory will lead you right to the music to get you there. 
The app will even read your heart rate, so you can see how the music is affecting you in real-time.
Whether you're trying to boost your mindfulness, stave off burnout, encourage a more restful sleep or just destress after a long day, a few minutes with Humm.ly can change your entire perspective, one song at a time.
Right now, a lifetime subscription to Humm.ly's full member service, usually a $299.95 value, is on sale for only $39.99.