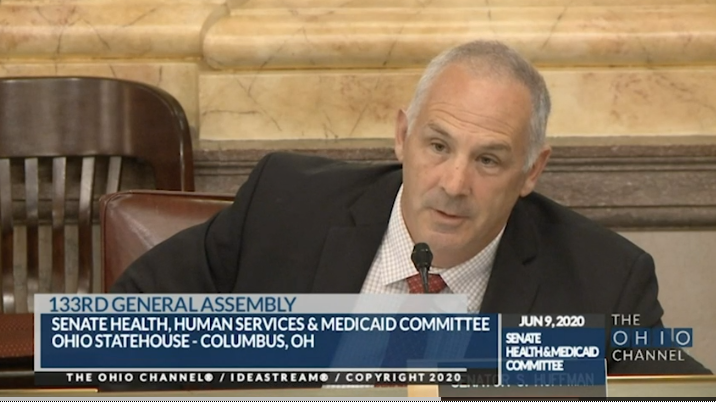 In Ohio, a Republican state senator is receiving widespread condemnation today after asking aloud whether "African Americans or the colored population" (?!??!?!) are disproportionately affected by the coronavirus pandemic because -- wait for it -- they "do not wash their hands as well as other groups."
Yes, that's right. Watch the Ohio State Senate video for yourself.
State Sen. Steve Huffman (R-Tipp City) on June 9 effectively blamed the COVID-19 deaths of Black and Latinx Americans on poor personal hygiene.
Insane: A GOP Ohio state senator is under fire this week after asking if "African Americans or the colored population" have been disproportionately affected by the novel coronavirus pandemic because they "do not wash their hands as well as other groups." https://t.co/uRgTLnaspw

— Yamiche Alcindor (@Yamiche) June 11, 2020
From the Washington Post:
State Sen. Steve Huffman (Tipp City) raised the question Tuesday during a hearing on whether to declare racism a public health crisis. Huffman, an emergency room doctor, wanted to know why African American communities are being hit so much harder by the virus, posing the query to Angela Dawson, executive director of the Ohio Commission on Minority Health.

"I understand African Americans have a higher incidence of chronic conditions and that makes them more susceptible to death from covid. But why does it not make them more susceptible to just get covid?" he asked. "Could it just be that African Americans or the colored population do not wash their hands as well as other groups? Or wear a mask? Or do not socially distance themselves? Could that be the explanation for why the higher incidence?"

Dawson, who is black, quickly challenged the senator's suggestion.

"That is not the opinion of leading medical experts in this country," she responded, later adding: "Do all populations need to wash their hands? Absolutely, sir, but that is not where you are going to find the variance and the rationale for why these populations are more vulnerable."
Read more at the WaPo:
Ohio GOP lawmaker asks if 'colored population' is hard hit by covid-19 because they don't 'wash their hands as well'
And video is here: ohiosenate.gov