A Boing Boing special feature.
☢ Readers who survived the eighties will remember how deeply the fear of nuclear destruction was embedded in popular culture of the time. We danced to hit songs about atomic ennui, we poked fun at "duck and cover" and bomb shelter blueprints, we believed ourselves less naïve than our parents' generation. But we knew we were no less safe from The Bomb. When the Cold War ended, a new era of nuclear threat emerged. ☢ "Countdown to Zero", a documentary from the team behind "The Cove" and "An Inconvenient Truth,"  speaks to that threat, and to a younger generation largely unaware of its existence. ☢ After viewing the film in Los Angeles, I caught up with producer Lawrence Bender and executive producer Jeff Skoll. ☢
XENI: We're speaking on the same day a nuclear nonproliferation treaty review is taking place in New York City. Iranian President Mahmoud Ahmedinejad is the only head of state present, and much of the focus is on concerns over Iran's nuclear program. "Countdown to Zero" addresses the threat posed by Iran as a potential nuclear power, but I walked away even more terrified by the chaotic, less-traceable threat of loose nukes already leaking out of former Soviet Union states and on to the black market.
LAWRENCE BENDER: One of the other things revealed today was our government put a number on the amount of nuclear weapons we have in our arsenal:  5,113. About half are on an alert status allowing them to be launched in a couple of minutes or less. Any one of them are many times the strength of the bombs dropped on Hiroshima or Nagasaki, and could destroy any major city in the world.
The loose nuclear material is a very large issue. President Obama recently convened a nuclear summit which was a pretty big deal and brought 47 heads of state to DC for one purpose. It's hard to underestimate how big a deal this was, that kind of thing hasn't happened since the United Nations was formed in 1945. There was unanimous global consent to secure all nuclear material around the world over the next four years.
Iran obtaining a nuclear bomb would be a game-changer, and is something no-one in the world wants. The first thing to do is secure everything we know about, the second thing is deal with what may be on the black market.
XENI: How did this film project come together? Why now?
BENDER: When we decided to make this movie three years ago, none of this was in the public eye. We were thinking, there are two things that could destroy humanity, two things we could actually change if we have the political will. One is climate change. The other is this. Now, the movie's coming out at a time when the president is taking a lot of action. But people need to be educated, motivated, and mobilized so that politicians know what they want.
JEFF SKOLL:  When I started Participant Productions six years ago, the idea was to tell powerful and important stories that would engage audiences and make a difference. One of those issues was nuclear weapons. But there's an art and a science to making these movies, and finding the right storyline, so it percolated for a while. 
Then about three years ago, I was in the Middle East. There was a lot of talk about Iran acquiring nuclear wapons. But it seemed like the broader issue of nuclear proliferation, and the remaining nuclear weapons between Russia and the US, had fallen aside. I came back to LA and had a call with Lawrence, and he told me about this group called Global Zero he'd become involved with—a program of the World Security Institute. Very quickly, we decided to do a movie about the subject.
BENDER: That's our story of how we came together, but just before that time these four guys, the "four statesmen" as they're known—Henry Kissinger, George Schultz, Sam Nunn, and Bill Perry, all conservative folks, two Republicans and two Democrats—wrote a series of op-eds together over the period of a few years. These men once believed nuclear weapons were an essential part of America's defense at one time, but the world changed, the need for nuclear weapons changed, and post-9/11 the threat sources changed. With that came a change in viewpoint from some of the most important people in this area, people you might consider Cold War hawks. 
Sometimes you get an idea, it hits you, but it's also just—it's in the atmosphere. Different people start to have the same idea at the same time, and each person believes it was their own, but other people are having the same idea. I feel like the idea behind this film was mine and Jeff's, but worldwide other people were all starting to think about the same thing in this new way. We are filmmakers, so we put it into a movie.
XENI: You've said you believe that nuclear disarmament is neither a left nor right wing issue, and that people who are conservative have come out in support of the film and the broader campaign it represents.
BENDER: One of the most prominent people who spoke about this back in the 1980s was Ronald Reagan. If you go back and look at his speeches, there are some really beautiful ones on this subject that will make you teary-eyed. George Schultz came out recently, after Obama did the security summit, and spoke very favorably about what the President is doing. Global Zero, of which I'm a founding member, has held summits on this issue and Schultz gave a keynote at one of them. One of the leaders of Global Zero who is in the movie is Ambassador Richard Burton who was a chief negotiator for president Reagan. It's not a liberal issue, and it's not a new issue. 
XENI: You structured the film around the three types of interrelated threats outlined in a famous speech given by John F. Kennedy to the United Nations in 1961: "Every man, woman and child lives under a nuclear sword of Damocles, hanging by the slenderest of threads, capable of being cut at any moment by accident, or miscalculation, or by madness."  
SKOLL:  For me the biggest concern is the fact that Russia and the US are still in this same position of hairtrigger alert. Over the last 350 million years there have been five extinction events, caused by things like methane, meteors, or volcanoes. But in the last 40 years, we've had at least five near-extinction events that we know of-maybe more-because of nuclear weapons. One was the Cuban Missile Crisis. Another which we illustrate in the movie happened in 1995. The fact that this hairtrigger alert is still in place despite the fact the political landscape has changed is extremely important. 
If the US has these weapons then Russia kind of has to have them too. But their weapons aren't nearly as well guarded as ours. That opened the door for other nations like China, Pakistan and India to have their own sets of weapons. And the risk of that expanding to rogue nations is high, as is the risk of thse materials falling into the wrong hands. So there's the risk of terrorism and rogue nations having nuclear weapons, on top of this hairtrigger alert, and none of it makes sense.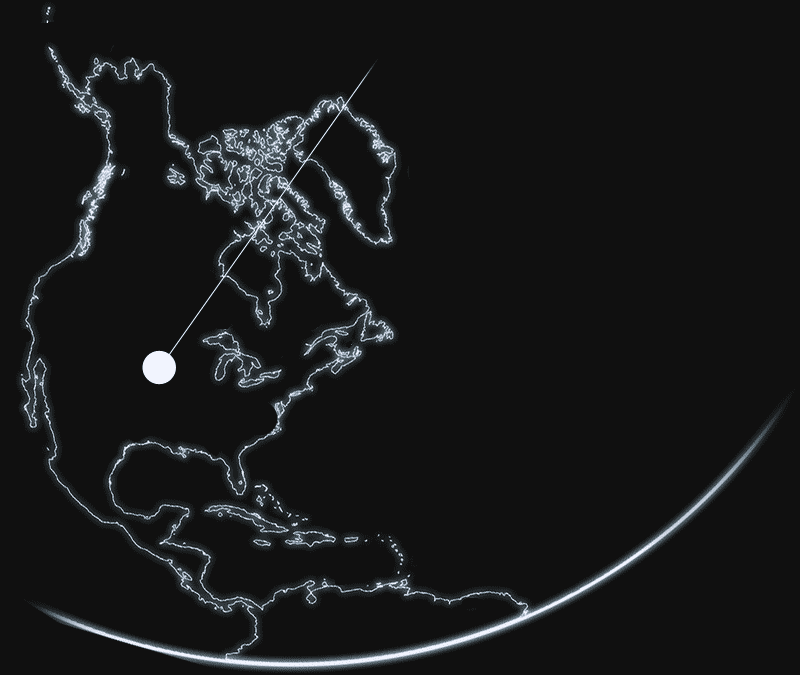 XENI: Your film may not be a feelgood movie, but you seem to be trying to leave viewers with a sense of empowerment, the idea that they can do something about this big, terrifying thing that has the potential to destroy all life on the planet.
BENDER: We didn't make the movie because we believe this is the end of the world. We made it because we believe we can prevent the end of the world from happening. The information is scary. Every time we screen the movie and there are young people in the audience and they say, "Whoah, I had no idea"—when you see the 18-22 year olds talk, the effect is staggering. They say "I feel so bad, I had no idea," but the other part of what they say is, "What can I do." 
SKOLL: When Participant does a film, we try to get people engaged in the issues beyond the film. There's a ton of information at http://takepart.com/zero, and at the end of the film, we invite people to text "ZERO" to "77177" to become engaged and active. We've found this is a very effective way to get people to engage immediately after they see the film. About 10% of the people who saw "The Cove" did, and eventually over a million people signed up. 
The film is really part of an overall campaign, there's a coalition of more than 50 organizations like Global Zero, faith-based organizations like True Majority and the New Evangelical Partnership, online organizations like Moveon.org and MySpace, and NGOs like the NRDC and Human Rights Watch. Together they can reach millions of people, and we hope to have millions of signatures on the Global Zero declaration to eradicate nuclear weapons. It's a global thing. The issue is global, the organizations are global. 
XENI: What surprised each of you most, during the making of the film? Was there a big gotcha, shocker moment?
SKOLL: For me, it was the story of how in 1995, we came very close to complete nuclear launch from Russia. The Russians misinterpreted a weather rocket the US launched in Europe as a nuclear assault. It was so bad, the Russians brought the nuclear briefcase to Boris Yeltsin and told him to approve a defensive nuclear launch. He was asked to launch a full-scale nuclear counterassault with the full arsenal of Russia. Nobody knows why he didn't, but he didn't.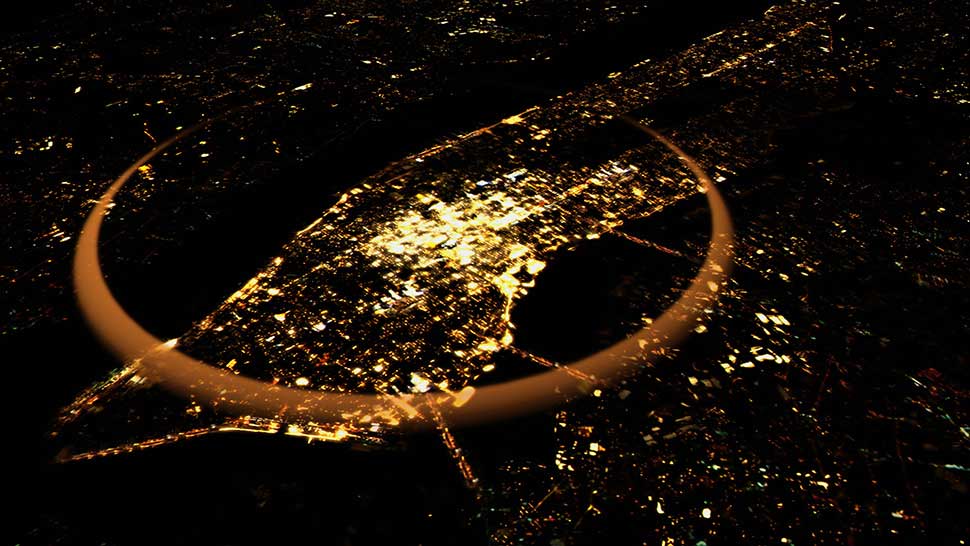 "In the first millionth of a second, the fireball is 500 feet across. Within ten seconds, it would grow to over one mile."—Joe Cirincione
The second big surprise has been the timing of all of this. When we started the film a few years ago we had no idea the US and Russia would be close to ratifying a new START agreement. We knew the nonproliferation agreement would be happening about now, but we had no idea it would be any more productive than the one in 2005 which went nowhere. The way the issue of nuclear weapons and proliferation has really popped in the public mind, that was a surprise.
BENDER: I was talking to a CIA person who appears in the movie, Rolf Mowat Larson. He saw the movie and said, 'Wow, you guys did a really great job. But you will never be accused of going too far out on a limb. There is a lot that isn't in the movie. As horrifying as some of the stuff is, there's a lot more to it.' And I said, 'Whoah, is that supposed to make me feel better?'
☢
Countdown to Zero, directed by Lucy Walker, opens July 9, 2010 in New York City theaters. The film opens in theaters across the country over the following weeks. The History Channel is a partner in the project, and will air the film on television later in 2010. 
(Top of page) South Dakota Minuteman Missile Museum Silo. An Ultra High Frequency antenna at links missile silos with the "Looking Glass" aircraft. If for some reason the Minutemen missileers were unable to complete their duties, this aircraft, manned by two operators, could take over any of the missile sites from the air. Photo: Robert Chappell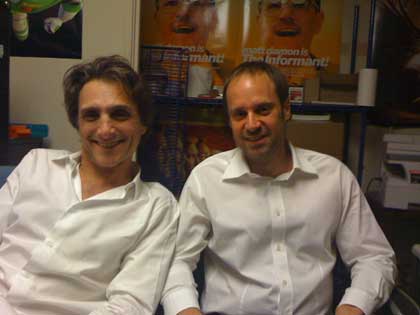 Lawrence Bender (left) and Jeff Skoll (right).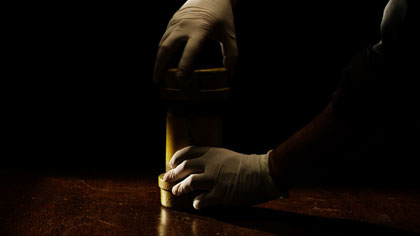 "Smuggling highly enriched uranium [HEU] into the United States is pretty straightforward. Lead pipe will shield the HEU. The detector would have to be within a few inches to pickup any radiation."
—Valerie Plame Wilson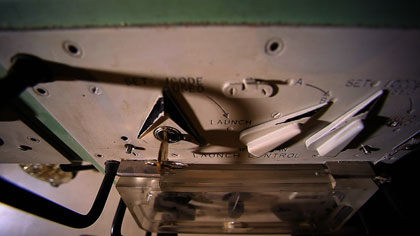 "Today, the posture of the United States and Russia is exactly the same as it was during the Cold War. So if the orders went down right now, twenty years after the fall of the Berlin Wall, it would take about two minutes to launch all of the U.S. nuclear ballistic missiles out of their tubes in the Midwest..."—Bruce Blair. Photo: Gary Clarke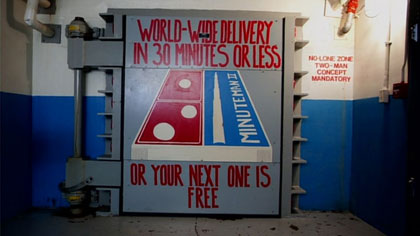 Missileer humor: the text painted onto a missile silo's heavy blast door reads "World-wide delivery in 30 minutes or less or your next one is free."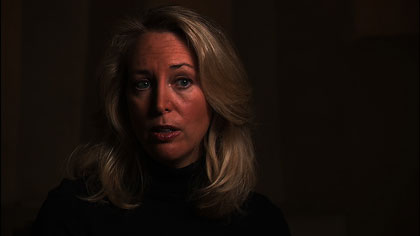 Former CIA Covert Operations Officer Valerie Plame Wilson: "There is no doubt in my mind, if terrorists acquire a nuclear weapon, they would not have hesitated to use it. So I guess the question is: could they ever get one?" Photo: Nick Higgins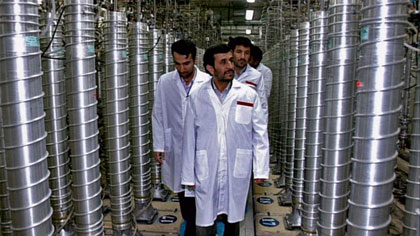 Iranian President Mahmoud Ahmadinejad inspects centrifuges at a uranium enrichment plant.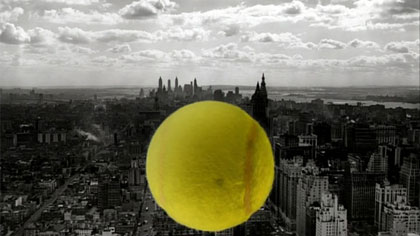 Enrico Fermi stood in his office, overlooking Manhattan.  He cupped his hands to the size of a tennis ball.  "A little bomb like that," he said, "and it would all disappear." Photo: Robert Chappell