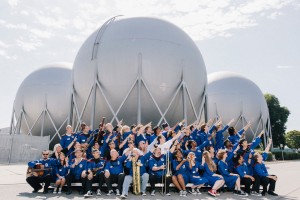 The International Space Orchestra in front of Vacuum Chambers, NASA Ames Research Center. Photo: Neil Berrett.
I never dreamed I would be in a NASA base in California, singing and playing music.
The Ground Control Opera performance by Nelly Ben Hayoun, presented the International Space Orchestra, 50 local technicians and scientists, playing in the city of San Jose at the Zero1 Biennial 2012. The opera reenacts the first minutes of Neil Armstrong's landing on the Moon. It's dedicated to the memory of the recently gone cosmonauts and astronauts, and the endeavors of scientists at ground-control stations, still trying to make our 20th century dreams of spaceflight come true.
My daughter asked me when she mis-heard that I was singing for "NASA": Mom why are you singing to "NATO?" NATO bombed us in Serbia in 1999! I said my dear this is NASA, not NATO, they have planes and rockets but not bombers and missiles! They are searching for habitable planets with the Kepler space probe! Maybe there are other space controllers somewhere out there!