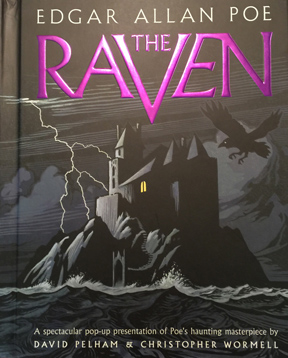 Earlier this year paper engineer David Pelham and illustrator Christopher Wormell collaborated on a masterful pop-up book rendition of Edgar Allen Poe's poem "The Raven."
It's an unusually accomplished work in a genre that is often thought to be directed at children. And while kids' books do make up a large portion of the pop-up books produced, adults who turn their nose up at anything more than a flat white page adorned with black text might find much to admire in the field of "moveable books." A Moveable Book Society not only exists, but has a biannual convention that's taking place this coming weekend in Boston. The earliest pop-ups appeared in books hundreds of years ago. This video lecture by pop-up wizard and designer Robert Sabuda was done for the Smithsonian.
I used to be a pop-up book nut, having started collecting them in the 1980s. Eventually, with hundreds of books stacked up all over, I sold it for a pittance. A pity, in retrospect, though I did keep an important few, including a beautiful copy of Model Menagerie published in 1895 by Ernest Nister which I snatched up for an unlikely C note on Portobello Road in London just as the dealer was opening his stand early in the morning. I scampered out with my prize feeling terribly guilty and simultaneously full of glee.
These days pop-up books are most often produced on glossy stock. The Raven, however, is printed on uncoated paper, and this in combination with Wormell's magnificent illustrations create a book of seeming mid-19th century engravings come to life. It looks quite rightly of its period, when Poe's poem "The Raven" was first published in 1845.
You can buy it on Amazon for only $13 plus postage.
While waiting for your copy of The Raven to arrive in the mail, I invite you to turn out the lights and listen to the late Christopher Lee read "The Raven" just before falling asleep. Sweet dreams …