The native language of video games
is neither spoken nor written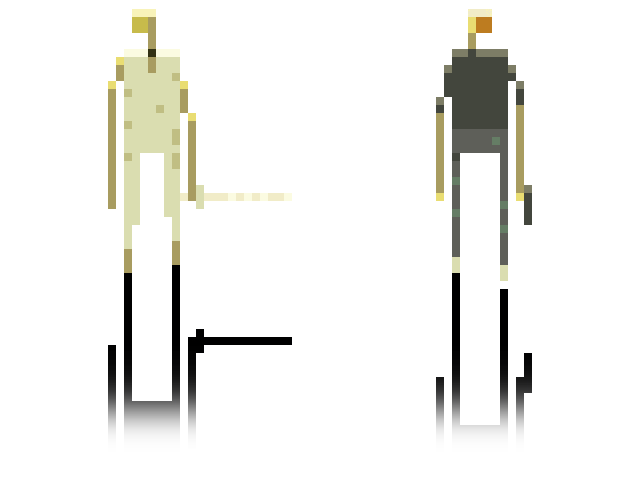 Not too long ago, Jordan Mechner and Eric Chahi were chatting with Eric Viennot, a French creator and writer. Jordan Mechner single-handedly pioneered a type of cinematic videogame with Karateka in 1984 and Prince of Persia in 1989. Eric Chahi similarly single-handedly created 1991's Another World -- known in the U.S. as Out of this World -- a painterly cinematic videogame in a similar tradition.
Jordan Mechner had the following advice to share, I think it's great advice. He was talking about the creative process, and he described it this way: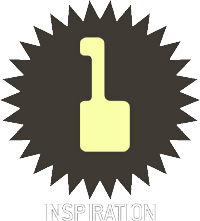 A project starts with an idea, a vision, something that is hard to define, something kind of magic and amazing. This is step 1. This is gold. This is beautiful. You can't yet see the details, but you have a sense for thing you want to make, and hopefully you're swept away by it.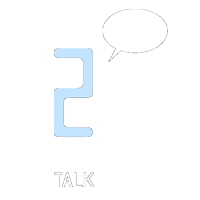 Usually in the creative process, the next step -- step 2 -- is to think about the project intellectually, to talk about it, to look at it from various angles, to plan it out, maybe to second guess it or to problem solve it, maybe reconsider it a bit. This is the talk.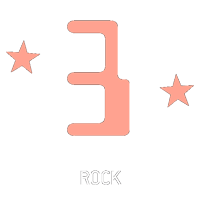 The next step, step 3, is to actually make this thing, to get down to it. This is the rock. And we like to think that the process goes from 1 to 2 to 3.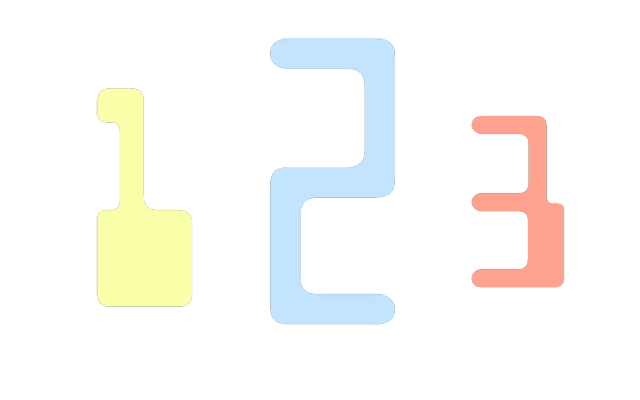 The trouble is that step 2 can get a little serious, particularly if it's a collaborative project. There's a lot of talk. A lot of planning and revising. Maybe some doubt. Maybe some deviations from the beauty and clarity of step one.
I was in the industry for a few years, and step 2 is a big deal there. Committees and middle-management and shareholders are all talk. Everyone wants to talk. Eventually, maybe it's all just talk, there's nothing left.
And maybe that's where it ends. Maybe you get lost in all that talk -- all that intellectualizing, all that 'what if?', all those numbers and sales projections or what-have-you, all that self-doubt -- and you lose your way. Maybe you never even get to step three. Or maybe whatever survives has none of the inspiration of step 1: it has been diluted, compromised, transformed.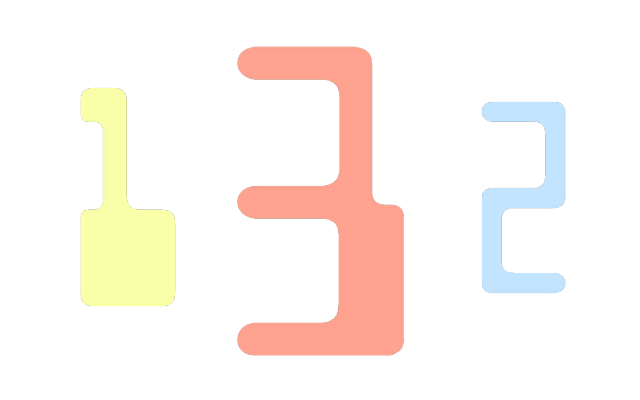 That's why Jordan Mechner's advice -- and it's so beautiful -- is to proceed from 1 to 3 to 2. Go right from the inspiration -- the vision -- to actually making it. Don't think it through. Don't talk about it. Don't plan it. Dive in and start making it happen. If you do that -- if you can start rocking -- you'll get some momentum, and when you have some momentum then the project has a chance, because now you're into it. It's going somewhere, it's tangible. Sure, you'll still run up against problems to solve and decisions to make, but you'll approach these in the moment and solve them in the moment. You'll solve them so you can keep moving.
Of course, if you're in a situation where you can't just go from 1 to 3 to 2 -- if you're all bound up in structures and processes -- get out. Get around it. Do something.
The take-away here is: rock before talking. These are words to live by, something I aspire to, and something that rockstars like Cactus and Messhof are demonstrating every other day before breakfast.

Ok now, I just want to talk for a minute about Moses. He's an alright guy, he's cool.
This guy, he comes down from the mountain a few thousand years ago and he has these stone tablets, and on them is the alphabet. And it's great! People go nuts for it: it's only 26 characters, easy to learn, everybody jumps on it. It's awesome. We all love it.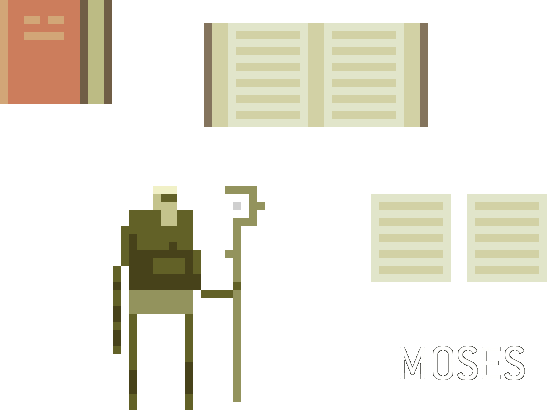 We end up printing this stuff on paper and in books and it's catching on, and pretty soon it's all over. Now it's the basis for our laws, our stories, our beliefs, our civilization. The alphabet. Alphabet literacy. It kicks ass. Seriously, I love it. Books are cool. But let's just take a quick second and take a look at what's going on with this. Above is a picture of a dude, and to his right is the word written with the alphabet, it says 'dude'. These two things are perceived totally differently by your mind. When you read the word 'dude', your eye is shooting along from left to right, and you're interpreting these characters that look like nothing and mean nothing and you're perceiving this word that has all these different meanings that you remember and you're thinking about right now. When you look at a picture of this dude, you're seeing the shape, and your eye is hitting it on all sides, looking at details, seeing the whole thing, nonverbally reflecting on it. You're kind of half-remembering images like this and the vaguely emotional associations and echoes that go with them.
This picture isn't speaking to your intellect, it's engaging the older mind, the one that is always looking for patterns and associations.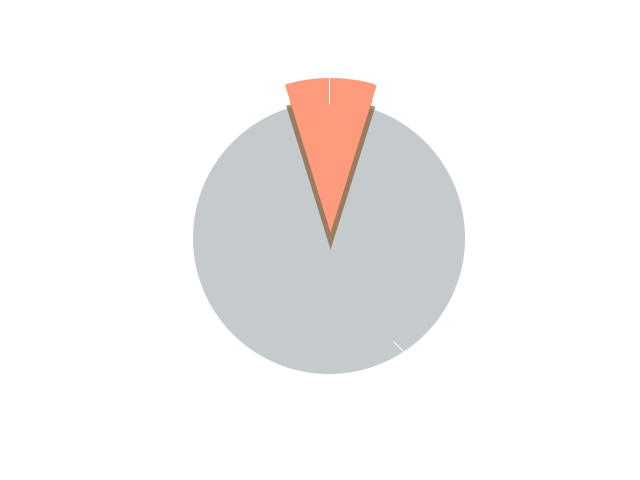 I'm suggesting that the written word -- and to some extent the spoken word -- is speaking to your intellect. Your intellect has a relationship to the whole mind, for sure, but it's a little bit apart, it's kind of its own thing. It's a great thing, but it's kind of its own thing. Meanwhile, images, sounds, music, patterns, motion -- these things are speaking directly to your whole mind, often without troubling the intellect. Here's a phrase. It reads 'a joyful reunion'. We're drawing on our memory banks, we're creating images to match it, it's an intellectual exercise. It's a good thing, it's cool.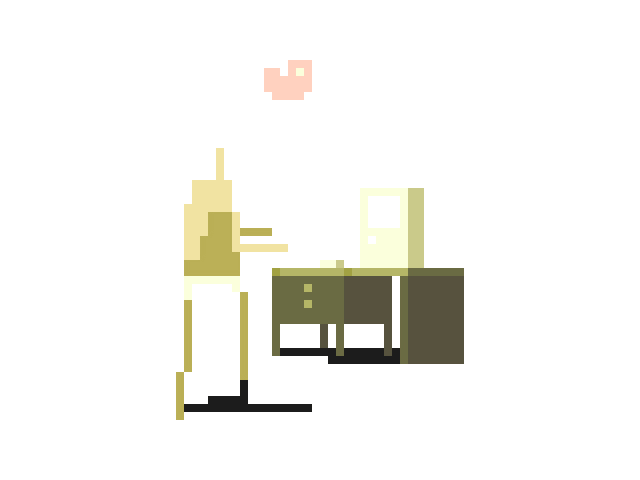 Here's an image. It's another 'joyful reunion'. It's doing something different in our minds. Add a little music overtop of this and you've got something really cool going on. All kinds of feelings and associations. This type of thing can be seriously powerful. This type of thing can cast a spell. Just let it work on you for a second or two.

The take-away here? Talk is good. Written and spoken communication is a beautiful thing in and of itself. However, with videogames -- a primarily audiovisual style of communication -- talk can be disruptive, it can undermine. In this context, talk is noise.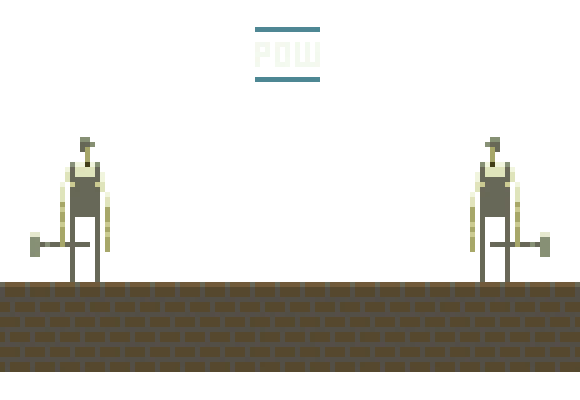 Remember when Miyamoto made that videogame about those plumbers? The real revolution with that videogame was in the style of communication. It was a tremendous leap forward in how articulate synesthetic audiovisual could be. Coins looked like they sounded and they sounded the way they behaved in the context of the mechanics. Each element -- the brick, the turtle, the pipe -- was a well-formed, understandable audiovisual videogame unit.
That's the genius of this thing. It didn't need to talk much at all, it was pure rock. This was the native language of videogames: synesthetic audiovisual expressing a meaning, where sound and image and logic come together and feel right, where the communication is nonverbal but nonetheless articulate, where you understand what's going on the same way you 'get' the communication of a song, the same way you can be blown away by a painting or a piece of sculpture.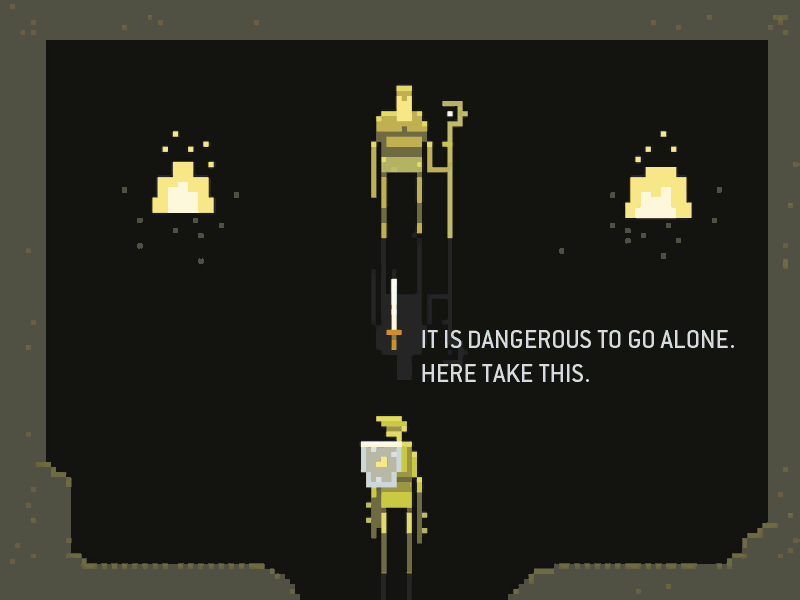 "It is dangerous to go alone." Here's another one from back in the day by Miyamoto, it had you poking around this place called Hyrule. This one had little bit of talk -- a sprinkling of dialogue, a bit of a story. And that's fine, because a little bit of talk is ok, so long as there is proportionally more rock going on, so long as the bulk of the experience is communicated in the native language of videogames with as little disuption as possible.
Actually when there's just a little bit of talk like this it has a peculiar, haunting, poetic effect. It tickles the intellect just enough for it to stir, but not enough to irritate it. I should say I don't love this videogame so much, but I love what it represents, and I think there are still lessons to be learned from it.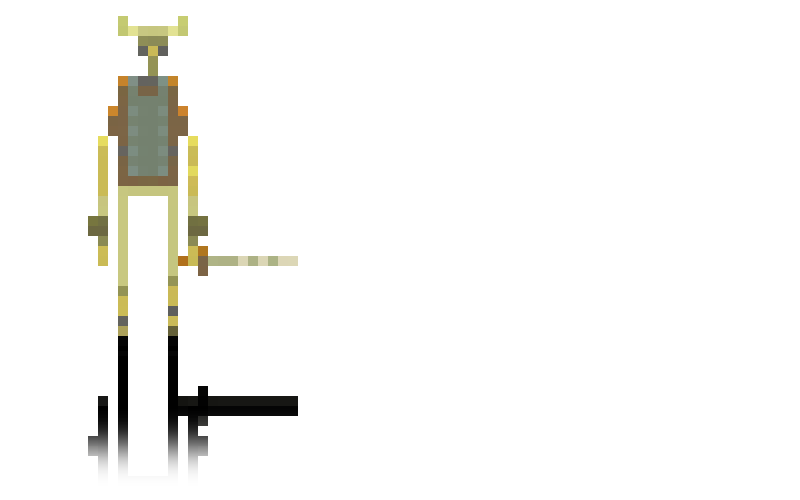 Have you played Ico? Fumito Ueda, creator of Ico, seems to be descended from Chahi, Mechner and old school Miyamoto. Some find the underlying videogame to be a little dull, but most are swept away by it, enchanted. It casts a spell and if you've seen it through to the end you know it's delicious. It speaks videogame fluently, it is audiovisually articulate.
We know the characters by how they move, we know the world by how it looks/sounds/feels. It does not talk. It does not need to. It rocks. What there is to understand is made clear audiovisually, so the intellect is free to reflect, to dream, to pursue tangential thoughts, to roam. This type of spell-binding talk-free experience, a little like Chahi's Another World, might just stick with you for some time to come.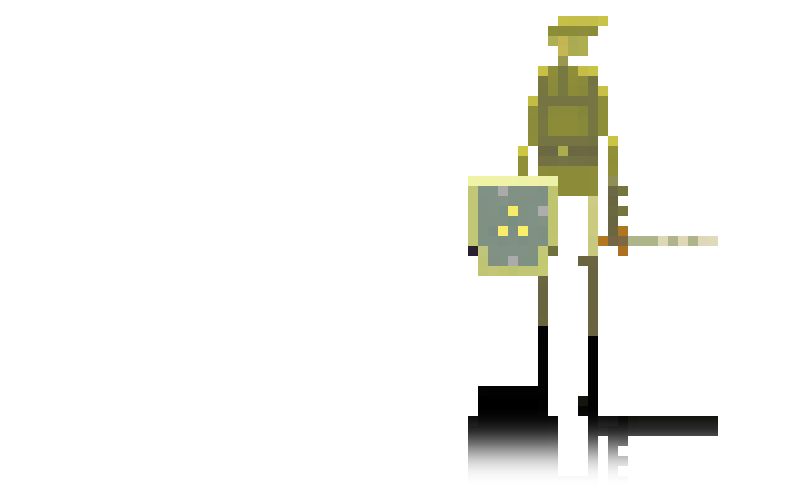 Meanwhile, our modern day Hyrule videogames, well, there's a sadness here isn't there? The sadness is that the man who pioneered all this rock has allowed committees and middle managers and random stakeholders to choke these videogames with needless, often incoherent, and always disruptive talk.
Sometimes there are spaces where the old magic exists, when you are seeing things, hearing things, spotting patterns, flowing through spaces, experiencing moods and locations. But often our experiences are pierced by disruptive, dissonant elements: overlong and condescending tutorials, over-explained idiotic stories and a million other stupidities.
These kinds of things stir our intellect, forcing us to switch gears and pay attention, but what they have to offer generally isn't worthy of our attention. To me these kinds of things are repulsive, evidence of a deficient imagination or a lack of videogame literacy on the part of the creator, or simply evidence of a committee. These things break the spell, they're an invitation to quit, and they exist in 99% of the videogames I've played.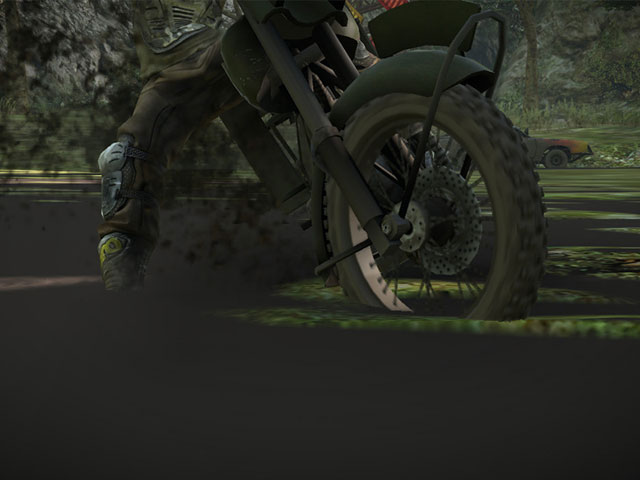 A videogame is a staggeringly beautiful canvas. It's a window into another world. A world that lives only as long as the machine is on. A living breathing world with depth and soul that actually exists, right there onscreen, limited only by the vision and imagination of its creators. Seize that thought, and don't let it go.
THE LESS TALK, MORE ROCK HALL OF FAME:
Lazy Jones
, 1984.
Metroid Prime
, 2002.
Rez
, 2001.
Motorstorm: Pacific Rift
, 2008.
flOwer
, 2009.
Everyday Shooter
, 2007.
Ico
, 2001.
Super Mario Bros.
, 1985.
Another World
, 1991.
Prince of Persia
, 1989.
Demon's Souls
, 2009.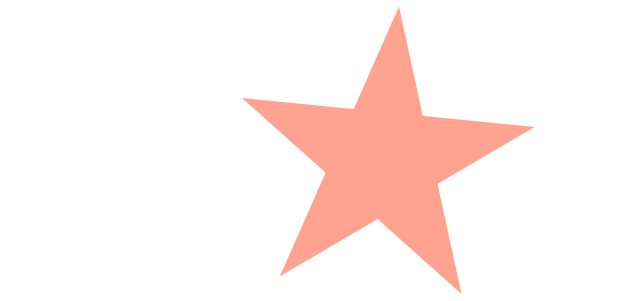 It occurs to me that as videogame machines have evolved and become more capable, there are creators and audiences who have become accustomed to these bloated cross media confections loaded with various kinds of talk and nonsense, and consequently the primacy of the native language of videogames tends to be ignored, de-prioritized or forgotten.
An entire generation seems to have become used to experiences clogged with menus and text, spammed with awkward cutscenes, choked by voice acting, mangled by incongruent narrative, segmented by load times, stalled by informational messages.
These elements serve to undermine the aesthetic coherence of the work -- they can dilute the magic, they can interrupt the flow, they can disrupt the basic audiovisual communication, they can break the spell. In my estimation, these various forms of 'talk' are generally superfluous, and often enough they are getting in the fucking way.
So, for what it's worth, here's your final take-away: LESS TALK, MORE ROCK.
Words and art: Superbrothers. Editor: Brandon Boyer. Design: Rob Beschizza