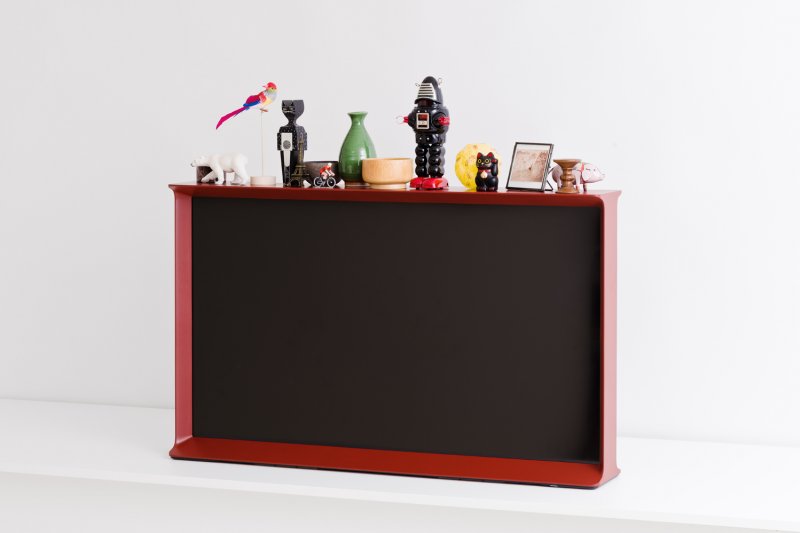 Most televisions look terrible. Frankly, the LCD era has only made the situation worse. With old sets, at least there was plenty of surface area for manufacturers to express tastes, good and bad, and foist them upon the public. But now they just pretend the bezel is (or should be) invisible, when neither outcome is the case, and everything looks very much alike.
Enter Samsung's Serif TV, imagined by French designer Ronan & Erwan Bouroullec to acknowledge that sets are still major items of furniture, often seen from all angles rather than merely hung on walls.
With this in mind, the set—when viewed from the side—embodies the letter "I" as seen in Roman typefaces. And from the front, its classical forms retreat into midcentury elegance and simplicity.
Serif is a television that moves away from a preoccupation with ultra-flat screens. Instead, it is an object that can be turned around and manipulated. It can stand anywhere, even on the floor with its own legs. What we were looking for was a solid presence that would sit naturally in various environments, just like an object or a piece of furniture.

In profile, it forms a clear capital "I" shape, its slim body broadening to form a surface like a little shelf at the top.

We also designed the interface inside Serif.
There is even space atop it for a small, supercilious cat.
[via Uncrate; images © Studio Bouroullec]