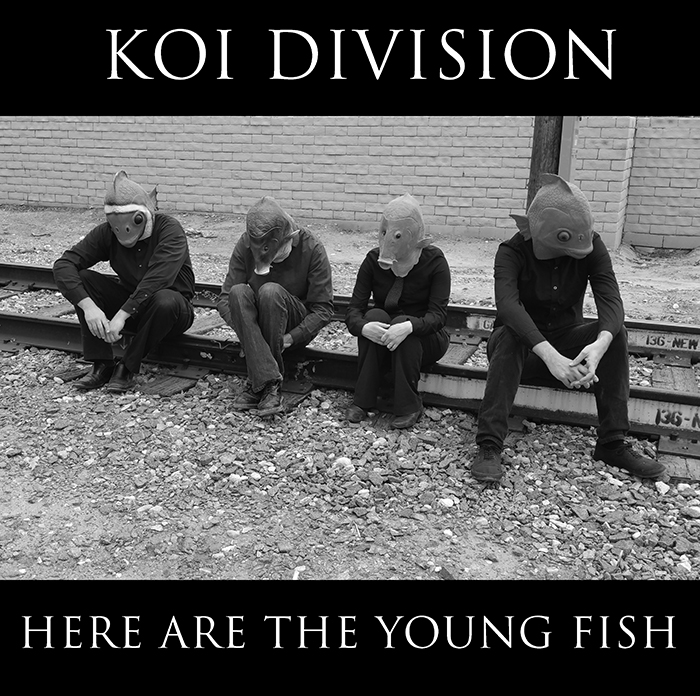 On their website, Los Angeles-based Koi Division proclaims they are the "only Fish Goth Joy Division parody cover band that matters."
I'm no expert, but I'm inclined to believe them.
Each band member not only dons a plastic fish mask but has also been given an appropriately-fishy moniker. The band is: Ian Clownfish, Hook, Bernard Salmon, and Steve Moray. Their song titles are also on punny point. For example, "Love will tear us apart" becomes "Lures will catch us a carp."
The post-punk act that is Joy Division rarely lends itself to humor. Their very name is controversial (it's a Nazi reference). Their lyrics are dark and their history is mired in tragedy…

Koi Division, however, is a much lighter affair. Donning black clothes and plastic fish masks, they wind their way through Joy Division covers with modified lyrics that explore the daily, often baleful, goings-on of the sea. Their shows incorporate a bubble machine and display a beachy version of the iconic Unknown Pleasures album art behind them. Though it might seem as if they're mocking, there is a reverence behind the humor.
Here's a look/listen:
If you're in L.A., you can catch their next show at the Ham & Eggs Tavern on 9/11.
Previously: Fragile Rocks' emo puppets tear up NPR's Tiny Desk