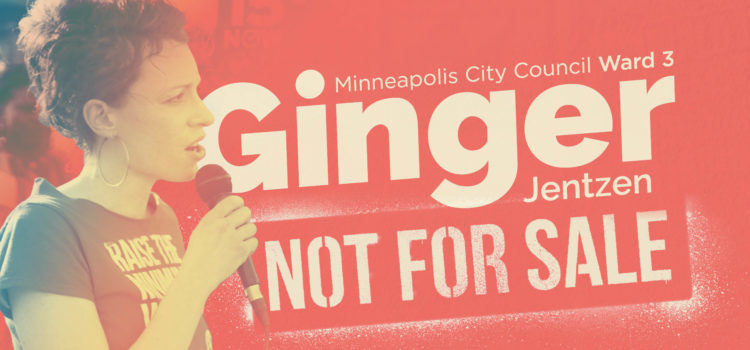 The average donation to first-time socialist candidate for Minneapolis City Council Ginger Jentzen is $25, and she accepts no corporate money. She's running on a platform of citizen oversight of the police, rent controls, and a $15 minimum wage. She's outraised any other candidate in Minneapolis history.
Minneapolis has long been a hotbed of progressive politics, and its pioneering use of ranked preferential ballots means that third-party candidates have a real chance -- that's what's driven the campaign of mayoral candidate Raymond Dehn, backed by Our Revolution, and running on an exemplary progressive platform.
Jentzen cites Kshama Sawant, the socialist member of Seattle city council who successfully introduced a $15 minimum wage to the city, as her inspiration for getting involved in city politics.
Jentzen has been a key organizer in the fight for a $15 minimum wage in Minneapolis, a movement that won out despite a frustrating lack of support from city council.
The Minneapolis Regional Chamber of Commerce, the Downtown Council, and the Building Owners and Managers Association have run a private smear campaign against Jentzen, sending out mailers warning their members about the "leading candidate" who represents a "progressive tidal wave."
Jentzen is running on a promise to protect the gains she won as an organizer and being a voice for working people in city council. For instance, if elected, she plans to personally oversee the rollout of the $15 minimum wage.

"One of the things … we're gonna have to do and ensure is that the policy is well-enforced and that people know what their rights are. That workers know what their rights are," she said.

She is also heavily focused on the issue of affordable housing in Minneapolis. Stagnant incomes and an influx of new residents have created a situation in which rent is increasingly unsustainable for the city's lowest-income families. Four out of five households that earn $20,000 or less in the city are "cost burdened," meaning they spend more than 30 percent of their income on housing expenses. For families earning between $20,000 and $34,000 annually, the percentage of cost-burdened households grew from 66 percent in 2011 to 72 percent in 2016.

Jentzen wants Minneapolis to ultimately have the same rent-control policies that many other major cities use to prevent rates from spiking. But short of that, she is promoting a tenants' bill of rights that would, among other things, require landlords to give residents six-months' notice before they raise rents. (The current notice period is 30 days.)

A core tenet of Jentzen's campaign is raising taxes for the city's wealthiest residents. She supports a slew of taxes aimed at the ultra-wealthy, including a millionaire's tax, an increase in developer impact fees, and excise taxes on big-box retailers and banks. In fact, these proposals are central to the candidate's brand; when they go canvassing, many of her volunteers wear bright red T-shirts emblazoned with a simple logo: "Tax the Rich."
MINNEAPOLIS CITY COUNCIL CANDIDATE IS A SOCIALIST WHO GETS THINGS DONE [Zaid Jilani/The Intercept]