Kindle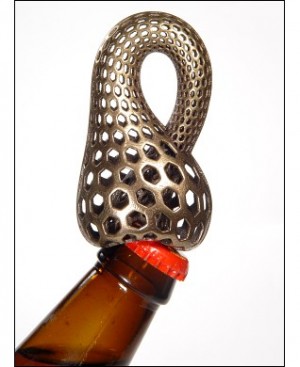 Yes, it's $72. But this 3-D printed metal sculpture/bottle opener is fantastic. And so is its marketing copy.
The problem of beer That it is within a 'bottle', i.e. a boundaryless compact 2-manifold homeomorphic to the sphere. Since beer bottles are not (usually) pathological or "wild" spheres, but smooth manifolds, they separate 3-space into two non-communicating regions: inside, containing beer, and outside, containing you. This state must not remain.
Read the rest of the product description and, you know, maybe buy the bottle opener, too. If you're feeling spendy.
Via Cliff Pickover
Maggie Koerth-Baker is the science editor at BoingBoing.net. She writes a monthly column for The New York Times Magazine and is the author of Before the Lights Go Out
, a book about electricity, infrastructure, and the future of energy. You can find Maggie on Twitter and Facebook.
Maggie goes places and talks to people. Find out where she'll be speaking next.
More at Boing Boing