Kindle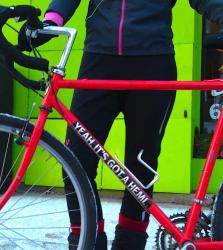 On the left is a picture of me with my bike, taken by my friend Laura Kling. On the right is the same image, as it would be seen by a person with protanopia — a relatively common (as in, still very rare) form of color blindness that affects the ability to see green, yellow, and red colors.
The Color Blindness Simulator will allow you to do this with your own photos.
Maggie Koerth-Baker is the science editor at BoingBoing.net. She writes a monthly column for The New York Times Magazine and is the author of Before the Lights Go Out
, a book about electricity, infrastructure, and the future of energy. You can find Maggie on Twitter and Facebook.
Maggie goes places and talks to people. Find out where she'll be speaking next.
More at Boing Boing