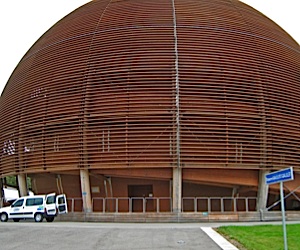 The publication process for a research paper about physics works a little differently than other subjects. That's because of arXiv. Funded by Cornell University, this site posts research papers, before they're formally published in a scientific journal. Unlike most scientific journals, which charge big fees for subscriptions or even to view a single paper, arXiv is free and open to the public. You can read everything published there—more than 700,000 papers about physics, math, computer science, and more. The other big difference: arXiv isn't peer reviewed. At least, not ahead of time.
A lot of the time, when you read a newspaper article about a new study in one of those fields, the study hasn't actually yet been published in a peer-reviewed journal. It's just been posted to arXiv, which sort of becomes a crowd-sourced peer review peer review of its own. Especially for headline-grabbing research making big, bold claims.
That's the background you need to understand what's going on right now with the study that claimed to find neutrinos traveling faster than the speed of light. That announcement was made in an arXiv paper. Putting those results on arXiv was as much a way of saying, "Woah, we just found something crazy, please tell us if you see something we've done wrong," as it was a formal declaration of scientific discovery.
Since that paper was published in September, there have been more than 80 follow-up papers, also published on arXiv, offering criticism of the original research or proposing theoretical explanations of how that seemingly crazy finding could fit into physics as we know it. And all of this is happening before anybody has gone through the peer-review publishing process.
That's why it's not terribly weird that you're now hearing all sorts of criticism of the original FTL neutrino findings. That's what was supposed to happen. It's also not terribly weird that the original researchers have announced that they're going to re-do the experiment themselves, taking into account some of the big criticisms brought up on arXiv. The BBC explains what will be done differently this time:
Read the rest