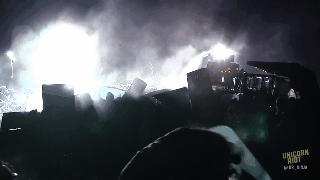 Jack Dalrymple, the Republican governor of North Dakota, has ordered an "emergency evacuation" on the unceded treaty lands owned by the Standing Rock Sioux Tribe, where protesters have endured potentially lethal, unconstitutional violence from law enforcement, including the use of water cannons as antipersonnel weapons in subzero temperatures and the use of tear-gas cannisters as projectiles fired into crowds of protesters.
Protesters have filed a class-action suit against Morton County Sheriff Kyle Kirchmeier, Mandan Police Chief Jason Ziegler, and Stutsman County Sheriff Chad Keiser, seeking relief for the brutal treatment they've received at the hands of inadequately trained, unprofessional law enforcement officers. As part of the suit, they're seeking an emergency injunction and restraining order that would ban law enforcement from using water canons, sound canons, tear gas, and other "less lethal" weapons against the protesters.
Governor Dalrymple will not be able to call upon the Army to enforce his order, as the Army Corps of Engineers has announced that it will not participate in the forcible removal of protesters.
The most serious injury of the evening was sustained by 21-year-old Sophia Wilansky, whose arm was hit by what her father, Wayne Wilansky, described as a "grenade type device." He said in a statement, "Sophia's arm will never work normally again. Indeed, her use of the arm will be minimal. Amputation may be required to give her a more functional capacity." The Morton County sheriff's department declared that the injury is inconsistent with department tactics and suggested it was the result of an explosion caused by protesters.

On Monday, North Dakota Governor Jack Dalrymple ordered an emergency evacuation of pipeline opponents camped on Army Corps land, citing recent snowfall and harsh conditions in the months ahead. He declared that emergency services to the area, which proved essential little more than a week before, would be reduced.

"I direct state agencies, emergency service officials, and nongovernmental organizations to reduce threats to public safety by not guaranteeing the provision of emergency and other governmental and nongovernmental services in the evacuation area, unless otherwise approved on a case by case basis by the Morton County Sheriff or Superintendent of the Highway Patrol," he stated. "The general public is hereby notified that emergency services probably will not be available under current winter conditions."
STANDING ROCK DEMONSTRATORS FILE CLASS-ACTION LAWSUIT OVER POLICE VIOLENCE
[Alleen Brown/The Intercept]
Corps won't forcibly remove protesters from federal land
[AP]
Governor orders emergency evacuation of Standing Rock camp citing harsh weather
[Rich McCormick/The Verge]
(Image: Unicorn Riot)