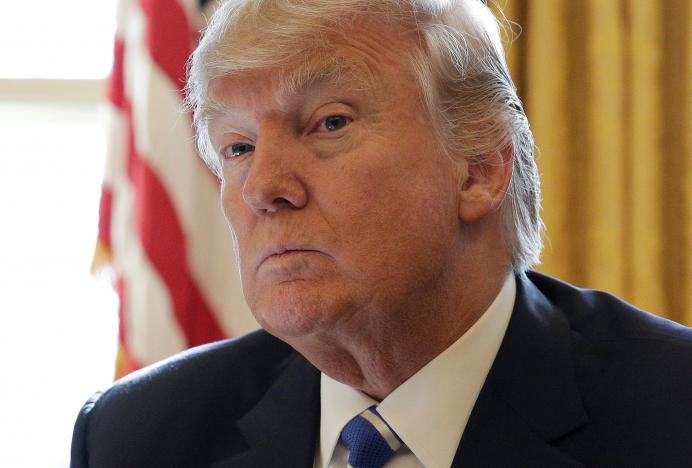 Donald Trump's 2005 tax returns have made it into journalists' hands. "They came in the mail, over the transom," reports David Cay Johnston. "It's entirely possible that Trump himself sent them to me," he added, noting that "Donald has a long history of leaking material on himself when it's in his interest."
Rachel Maddow tweeted Tuesday evening, just before her MSNBC show aired, that the evening's episode would focus on his 2005 returns.
David Cay Johnston was her source, and he posted his report here.
Shortly after, Daily Beast published their link to Johnston's investigation.
The White House pre-empted Maddow's big on-air reveal by a few minutes, with statements that effectively confirmed her reporting which had not yet aired.
"It is totally illegal to steal and publish tax returns," the White House statement said. "The dishonest media can continue to make this part of their agenda, while the President will focus on his, which includes tax reform that will benefit all Americans."
His son tweeted:
From the Daily Beast:
Donald Trump earned more than $150 million in the year 2005—and paid just a small percentage of that in regular federal income taxes. Daily Beast contributor David Cay Johnston has obtained what appear to be the first two pages of Trump's 2005 federal income tax return, and published an analysis of those pages on his website, DCReport.org. The Daily Beast could not independently verify these documents.

The documents show Trump and his wife Melania paying $5.3 million in regular federal income tax—a rate of less than 4% However, the Trumps paid an additional $31 million in the so-called "alternative minimum tax," or AMT. Trump has previously called for the elimination of this tax.

"Before being elected President, Mr. Trump was one of the most successful businessmen in the world with a responsibility to his company, his family and his employees to pay no more tax than legally required," the White House said in a statement. "That being said, Mr. Trump paid $38 million dollars even after taking into account large scale depreciation for construction, on an income of more than $150 million dollars, as well as paying tens of millions of dollars in other taxes such as sales and excise taxes and employment taxes and this illegally published return proves just that."
Trump's 2005 return also shows that he'd continued to benefit from the roughly $916 million loss he reported in his 1995 return—published last year by The New York Times. Using a loophole Congress closed in 1996, Trump converted that loss into a tax credit for the same amount he could offset against income.

2005 was the year that Trump, a newly minted reality star, made his last big score as a real-life real estate developer, when he sold two properties, one on Manhattan's west side and one in San Francisco, to Hong Kong investors, accounting for the lion's share of his income that year.
Photo: U.S. President Donald Trump sits during a meeting with Chief Executive Officer of Intel Brian Krzanich in the Oval Office of the White House in Washington. Feb., 2017.