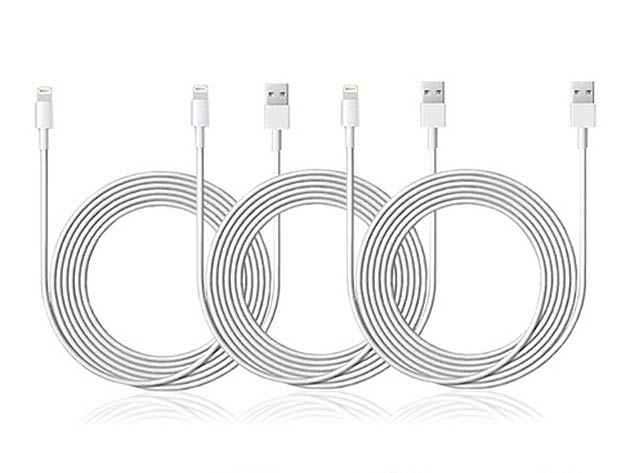 The Lightning port has thus far resisted the cruel fate that befell the headphone jack, and despite rumors that it may be disappearing come iPhone 8, for the present and foreseeable future, Lightning cables are a hot commodity for iPhone users. As such, we must make do in this strange time in which long, glorified strings are desirable objects. So go ahead and indulge in these 10-foot long Lightning cables, giving you extreme flexibility while you charge.
These Lightning cables offer over three times the normal reach of a standard power cord and are 100% MFi-Certified, so you can use them safely without fear of frying your $800 slab of glass. This pack even includes three of them, so you can keep one plugged in behind the bed, one by the couch, and one by the other couch for near-infinite battery life.
But seriously, having a cord that will wrap behind a chunky office desk or comfortably reach the back seat of a car is a definite improvement. Also remember that three of these still cost less than one Apple-branded Lightning cable. Get a 3-pack of 10-Ft MFi-certified Lightning cables for $20, reduced from the usual $89 price.
Explore other Best-Sellers in our store:
Coding + Development
Accessories 
D-I-Y Course