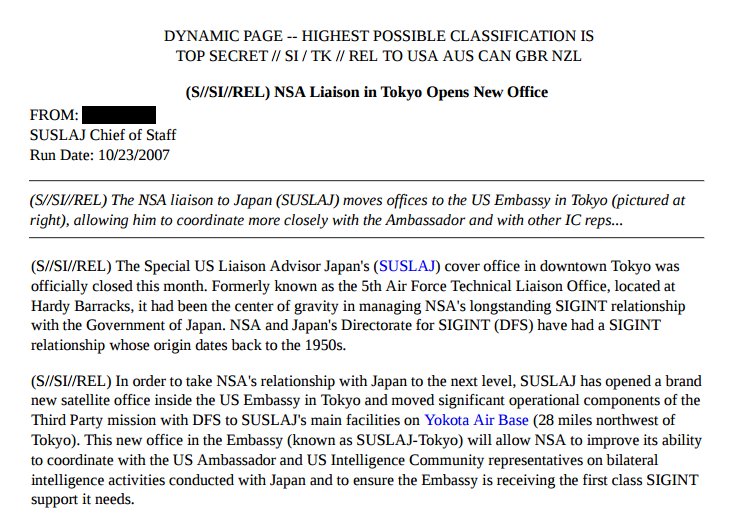 The Intercept publishes a previously-unseen set of Snowden docs detailing more than $500,000,000 worth of secret payments by the Japanese government to the NSA, in exchange for access to the NSA's specialized surveillance capabilities, in likely contravention of Japanese privacy law (the secrecy of the program means that the legality was never debated, so no one is sure whether it broke the law).

Japan was never fully integrated into NSA's Pacific-region surveillance partnerships, though. That's because Japan's intelligence apparatus is, in the NSA's internal estimation, stuck in an old-fashioned Cold War mode of excessive secrecy and siloing, which prevented it from fully collaborating.
But Japan still hosts at least three NSA facilities, including a massive surveillance-gear servicing hub where broken spy gadgets from around the world are shipped for repair.


The Japanese spies' cooperation with the NSA was also compromised by conflicts between the two countries' leadership, especially on whaling: the NSA actively spied on Japan's whaling negotiators during the 59th International Whaling Commission, which ended in strict limits on whaling that humiliated and enraged Japan on a global scale.
About 1,200 miles southwest of Yokota is the NSA's most remote Japanese spying station, located on the island of Okinawa at a large U.S. Marine Corps base called Camp Hansen. It, too, has greatly benefited from a massive injection of Japanese money. In the early 2000s, NSA constructed a state-of-the-art surveillance facility on the island, paid for in full by Japan at a cost of some $500 million, according to the agency's documents. The site was carved out of a "dense, hilly area" called Landing Zone Ostrich that the Marines had previously used for jungle training. The facility, built to include an "antenna field" for its spying missions, was designed to be low-profile, blending in with the landscape. It replaced a previous spy hub NSA had maintained on Okinawa that the island's Japanese residents had complained was unsightly. The role of the remote eavesdropping station is to collect high-frequency communications signals as part of a mission called STAKECLAIM. The NSA does not appear to have a large number of employees stationed on the island; instead, it remotely operates the Okinawa facility from a "24-hour collection operations center" in Hawaii.

Hiroshi Miyashita, a former Japanese government data protection official, told The Intercept that Japan's funding of U.S. intelligence activities is withheld from public disclosure under a state secrecy law, which he criticized. "It's our money — Japanese taxpayers' money," he said. "We should know how much was spent for intelligence activities in Japan." Miyashita, now an associate professor at Chuo University in Tokyo, said it was his understanding that NSA operates in the country outside Japan's legal jurisdiction due to an agreement that grants U.S. military facilities in Japan extraterritoriality. "There is no oversight mechanism," Miyashita said. "There is limited knowledge of activities within the bases."

JAPAN MADE SECRET DEALS WITH THE NSA THAT EXPANDED GLOBAL SURVEILLANCE [Ryan Gallagher/The Intercept]