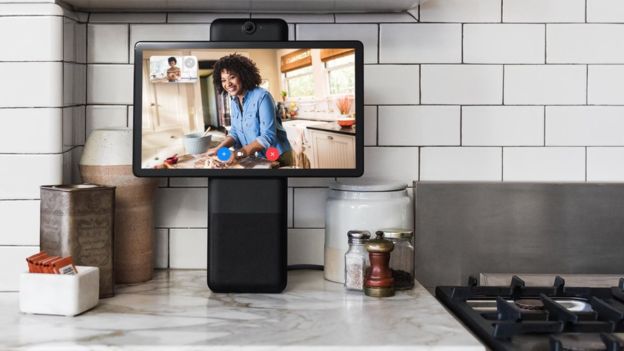 To celebrate the leaking of 50 million user accounts last week, Facebook is today launching two "video call machines" that "automatically zoom in on users and follow them as they move." You'll be putting them in your homes, so you can watch Facebook while Facebook watches you. The BBC's Leo Kelion:
The Portal products automatically zoom in on users and follow them as they move, to offer a superior experience to existing smartphone and tablet apps. The devices rely on Facebook Messenger to make and receive calls and also feature Amazon's Alexa smart assistant. ...

Both of the Portals are designed to be used from a distance of between 5ft to 10ft (1.5m to 3m) - further than video calls are typically made from using smartphones and other computers.

They use a 140-degree 12 megapixel camera to capture a relatively wide field-of-view, providing scope for on-device software to zoom in and track the users' movements.
The Verge's Jacob Kastrenakes:
The first hardware products marketed under the Facebook brand, the Portals can be used to call other Portal users, or anyone who has Facebook or Facebook Messenger. The Portals can play music through Spotify and Pandora, or stream video from Facebook Watch, but these are intentionally limited devices. For better and for worse, you can't even browse Facebook.
It's funny that thay launched it despite the ongoing fallout from the privacy breach, but they don't need to worry about it. The target audience for this product doesn't understand privacy issues or doesn't care about them. Whereas people who do were never going to buy it anyway. QED.
The devices will go on sale in the US in November.