Rocky Horror Muppet Show
Read more at Boing Boing
Read more at Boing Boing
Read more at Boing Boing
---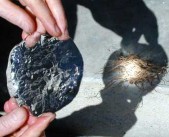 How to make a firestarting ice-lens -- why didn't anyone tell me about this when I was between the age when snow-forts sucked and the age when I didn't want to venture into the cold, period?
---
Listen up. Former BoingBoing guestblogger Susannah "Reverse Cowgirl" Breslin is in New York City this week, meeting with TV producers about a television version of Reverse Cowgirl's blog.
---
Article in today's Wall Street Journal about a little-known federal agency known as the TSWG: Americans worried about terrorism on their home turf will soon be able to buy a $3 sensor the size of a credit card that will show whether they have been exposed to a dirty radioactive bomb.