Hallowe'en, Jack Chick style
Read more at Boing Boing
Read more at Boing Boing
Read more at Boing Boing
---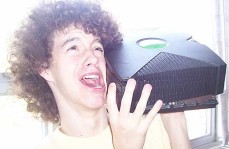 Sidetalkin' is a photoblog devoted to pix of people demonstrating how ridiculous they feel talking into the new "sideways" Nokia N-Gage phone, which requires that you hold it at a right-angle to your head and talk into the thin edge.
---

Here's some leaked info about a new business-card-sized PDA from Citizen that supports a WiFi card (or Bluetooth, if you're some kind of pervert) for email.
---
At left: snapshot I just phonecammed of the sky outside my home. Los Angeles is a very strange place to be this afternoon.