Custom Star Wars blinds
Read more at Boing Boing
Read more at Boing Boing
Read more at Boing Boing
---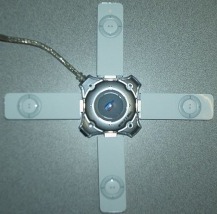 Using a USB 2 hub and OS X's RAID software, this enterprising hacker wired together four iPod Shuffles into an array that acted as a single logical disk.
---
A Cylon assuming female human form wears a disguise from the fall-winter 05/06 collection by Cortana during the Pasarela Gaudí fashion show in Barcelona.
---
This Der Spiegel story about erotic frescoes from Pompeii reveals that prior to being buried in heaps of ash, Pompeiians were totally whoring it up.