Gothworld photoshopping contest
Read more at Boing Boing
Read more at Boing Boing
Read more at Boing Boing
---
Multiple Partners is a group show opening Friday Saturday at Pablo's Birthday gallery in New York City. My pastel-painting pal Barnaby Whitfield is exhibiting.
---
Researchers at the University of Southern California are building a "quantum emitter" that uses just one electron to generate a single photon signal.
---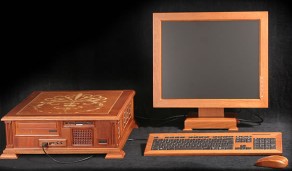 This handmade redwood PC, keyboard, mouse and monitor case was carved by a Russian craftsman for a client in Moscow (more photos here).