Homebrew MarioWeen game blends Mario canon
Read more at Boing Boing
Read more at Boing Boing
Read more at Boing Boing
---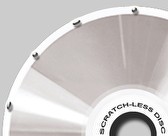 Scratchless Discs are blank CDs with small raised bumps around their perimiters that keep the disc's data from coming into contact with your desk when you set it down, reducing the likelihood of scratches that render discs unreadable.
---
A talented tiki designer, Purple Jade, lost her house and everything in it when it was hit by Hurricane Katrina. The kind folks at Tiki Farm are donating 100% of the profits from the sale of this cool mug (designed by Purple Jade herself) to Purple Jade.
---
Ted Dewan was tired of cars zooming down the residential street in front of his house, so he designed a series of "DIY traffic-calming happenings," including living room furniture sets in the middle of the road.