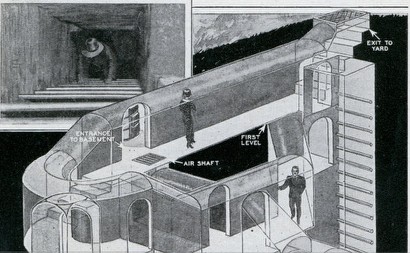 Apropos of today's story about
Seymour Cray's supposed subterranean proclivities
, here's what Charlie calls, "a 1932 Modern Mechanix article about Dr. H. G. Dyar who built tunnels (some extending 32 feet deep) beneath his house as a way to blow off steam after a long day at work in front of his microscope."
Link
(
Thanks, Charlie!
)
Update: Robotech Master sends in a link to a page about Dyar's tunneling habit:
During the 1920s Dyar's most peculiar hobby came to light. When a truck fell into a labyrinth of tunnels near Dyar's old home in 1924, newspaper speculation attributed these to World War I spy nests, Civil War trysts, and mad scientists. Eventually Dyar accepted responsibility for the tunnels and similar works behind his new home, saying he found relaxation in digging underground. The brick-walled tunnels extended for hundreds of feet and measured six by six feet.
Update 2: Charlie sends a pointer to "Baldasare Forestiere's incredible monument to industry and unrequited love near Fresno. It's got live trees bearing seven kinds of fruit with just their tops sticking out of the ground (providing natural air conditioning through leaf aspiration), a ball room, a glass-bottomed underground swimming pool, and numerous other marvels all built and excavated by a single man (derisively called the 'Mole Man' by locals) using simple hand tools between 1908 and 1946."
Update 3: Roninspoon sez, "I remembered a History Channel show I'd seen a few years ago called Secret Passages of the Cold War. One of the structures is featured was the home of Kenley Snyder. A business professor at Trinity Western University, he spent most of his free time for most of 30 years building a very elaborate, large, and professional quality bomb shelter under his home. He did all the digging and construction by himself and by hand. Apparently the house is now for sale."