MC Escher remix contest
Read more at Boing Boing
Read more at Boing Boing
Read more at Boing Boing
---
Paul says: Wendy and I went to Belize and Guatemala for our honeymoon and had a wonderful time, but we got bitten by bugs aplenty and went through almost half a tube of Benadryl Itch Stopping Cream.
---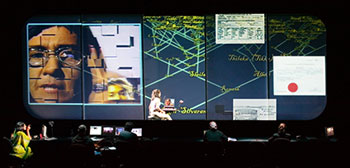 Starting Thursday, August 17 for three nights, there's a cool multimedia theater piece in San Francisco by the Builders Association: "SUPER VISION tells three stories about dataveillance, using a seamless blend of video, sound, new media, and theater design." Link, and here's a Wired story on an earlier edition of this show that ran at BAM last year. (Thanks, Melanie Cornwell)
---
The Christian Science Monitor's 11-part series on journalist Jill Carroll's abduction in Iraq continues today with part 3: After dinner they told me to put on a track suit they'd given me two days earlier, and remove my head scarf.