Artificial cartoon-character skeletons
Read more at Boing Boing
Read more at Boing Boing
Read more at Boing Boing
---
Toronto's Seneca College is throwing an amazing-sounding free/open source software conference called FSOSS on Oct 26-27, to be held on the York University campus.
---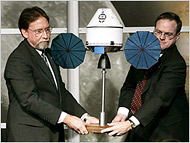 NASA today announced that Lockheed Martin will design and build the agency's next-gen human space exploration craft, Orion. The initial contract value was reported to be approximately $4 billion.
---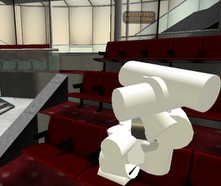 Wagner James Au, fresh from Governor Mark Warner's appearance in the online world Second Life, sends us this: "A lightly edited transcript of Governor Warner's whistle stop appearance in Second Life is up now, a brief but wide-ranging interview on some of the important issues of the day, conveyed through the Governor's avatar to an audience of some 50 SL residents-- including Senator Ted Steven's version of the Internet, in avatar form." MW: Next week, I hope to lay out some immediate steps we can take to better protect our homeland and ensure that the resources we spent get real results...