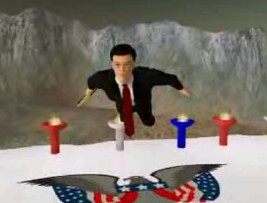 Wagner James Au sez, "As featured on
Boing Boing last October
, a filmmaking team created a hilarious spinoff of Stephen Colbert's 'Green Screen challenge' which had him fighting an army of Nancy Pelosi clones, created entirely within Second Life. It included a 15 second section of avatars *watching* the 'Colbert Report' from within Second Life, but the rest of the 90 second, CC-licensed video is all original content and clearly parody, both of the show and the American political scene.
"Not good enough for Viacom, evidently-- or for YouTube to check. When you click on the YouTube video now, you get, 'This video is no longer available due to a copyright claim by Viacom International Inc.'
"The original video is still available on this page."