Kindle
iPhone snapshot of a painting that hangs in a traumatologist's waiting room in Guatemala. Story + sizes here. Hi to the home blog from the road (and I am fine, I'm not the patient, thanks).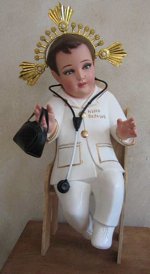 Update: At left, BB commenter Florsie sends along this equally excellent "Baby Doctor Jesus" image in the same popular theme, also of Latin American provenance. Haz click aquí!
Boing Boing editor/partner and tech culture journalist Xeni Jardin hosts and produces Boing Boing's in-flight TV channel on Virgin America airlines (#10 on the dial), and writes about living with breast cancer. Diagnosed in 2011. @xeni on Twitter. email: xeni@boingboing.net.
More at Boing Boing