Kindle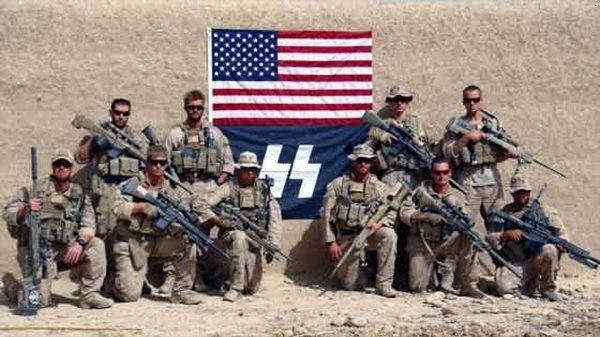 Probably not the best choice of font for the flag of the US Marine Corps Scout Snipers. From CNN:
The Marine Corps said it became aware of the photo last November and the local command investigated, but found it not to be racially motivated, according to a statement released by a Marine Corps spokesman, Lt. Col. Stewart Upton.

The unit's commander decided not to proceed with disciplinary action, it said, but all Marines in the unit were reminded that such behavior will not be tolerated and any further display could result in punishment.

"They determined that the Marines in the photo were ignorant of the connection of this symbol to the Holocaust and monumental atrocities associated with Nazi Germany," (Marine Corps Commandant, Gen. James) Amos said in his statement Friday.
"Panetta seeks probe of Marine SS flag" (CNN, thanks Ed Szylko!)
UPDATE: Mother Jones interviews Iraq war veteran Waitman Beorn, who blew the whistle on the Scout Snipers' unfortunate logo. Beorn is currently a visiting history professor at Loyola University New Orleans and a Fulbright and Guggenheim fellowship recipient who teaches at the National Holocaust Memorial Museum.
David Pescovitz is Boing Boing's co-editor/managing partner. He's also a research director at Institute for the Future. On Instagram, he's @pesco.
More at Boing Boing