Kindle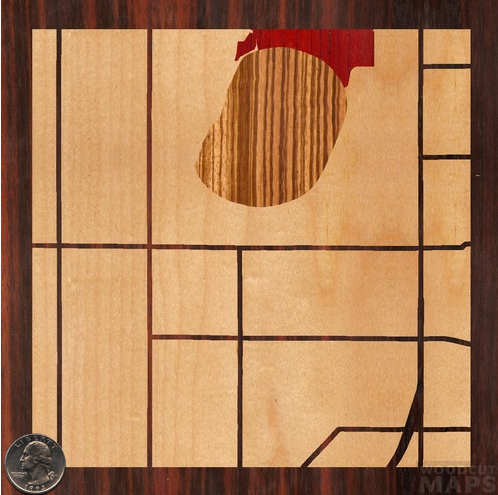 I really dig creative work that turns a sense of place into art. That's why I'm really getting a kick out of WoodcutMaps.com, which uses Google Maps to create really great geometric art—some clearly map-like, others much more abstract.
It all depends on what view of the map you choose to have turned into a woodcut. You can do a tight crop, or wide pull-out. Basically, you choose the view that matters to you. They make it art. Above is what my neighborhood in Minneapolis would look like as a woodcut.
At $100 for an 8x8 square, this isn't cheap. But it is very cool and strikes me as something that would make a nice housewarming gift for a special friend, or an anniversary gift for parents who've lived in the same place for decades.
Via Flowingdata and Ryan Sager.
Maggie Koerth-Baker is the science editor at BoingBoing.net. She writes a monthly column for The New York Times Magazine and is the author of Before the Lights Go Out
, a book about electricity, infrastructure, and the future of energy. You can find Maggie on Twitter and Facebook.
Maggie goes places and talks to people. Find out where she'll be speaking next.
More at Boing Boing