Kindle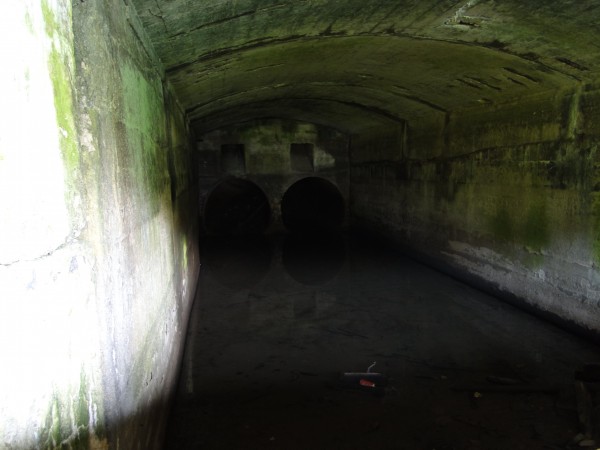 Geology Ph.D. student and volcano blogger Jessica Ball recently took a detour away from volcanoes and into the world of awesome abandoned industrial sites.
Have I mentioned that I LOVE awesome abandoned industrial sites?
Ball went hiking around the former site of the Schoellkopf Power Station—a hydroelectric plant that once turned the force of Niagara Falls into electricity.
The ruins of this power plant were the second station built on the site, and were completed in 1895. Both buildings were constructed by Jacob Schoellkopf, who had purchased a hydraulic canal, the land around it and the power rights in 1877. The plant eventually became part of the Niagara Falls Power Company in the early twentieth century. But by 1956, water that had been seeping through the rock in the gorge wall behind the plant had weakened it. On June 7th, workers noticed cracks in the rear wall of the plant, and at 5 that evening a catastrophic collapse destroyed more than 2/3 of the station. One man died, several had to be rescued from the Niagara River, and debris from the collapse made it as far as the Canadian side of the Gorge.

Before the collapse, the plant was generating 360,000 kilowatts of power for the city of Niagara Falls; afterward plants on the Canadian side picked up the slack, and the destroyed plant was later surpassed by redevelopment of the hydropower infrastructure in the area, including the construction of the Robert Moses Generating Station farther downstream.
Check out her photo-filled tour of the site at the Magma Cum Laude blog
Maggie Koerth-Baker is the science editor at BoingBoing.net. She writes a monthly column for The New York Times Magazine and is the author of Before the Lights Go Out
, a book about electricity, infrastructure, and the future of energy. You can find Maggie on Twitter and Facebook.
Maggie goes places and talks to people. Find out where she'll be speaking next.
More at Boing Boing