Kindle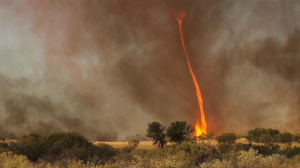 Chris Tangey took this intense image of a tornado sucking a brushfire into the sky near Alice Springs, Australia. From The Australian:
"There was no wind where we were, and yet you had this tornado," Tangey says.

For him, it sounded "like a fighter jet"; for (firefighter Ashley) Severin, it was like "standing behind a 747". "I've never seen anything like it. I just thought the ground was going to start trembling," Severin says. "The noise it was making, the speed, the red flames in the centre of it. It was like a kaleidoscope show."
"Alice dust devils pack a gullet full of flames"
David Pescovitz is Boing Boing's co-editor/managing partner. He's also a research director at Institute for the Future. On Instagram, he's @pesco.
More at Boing Boing